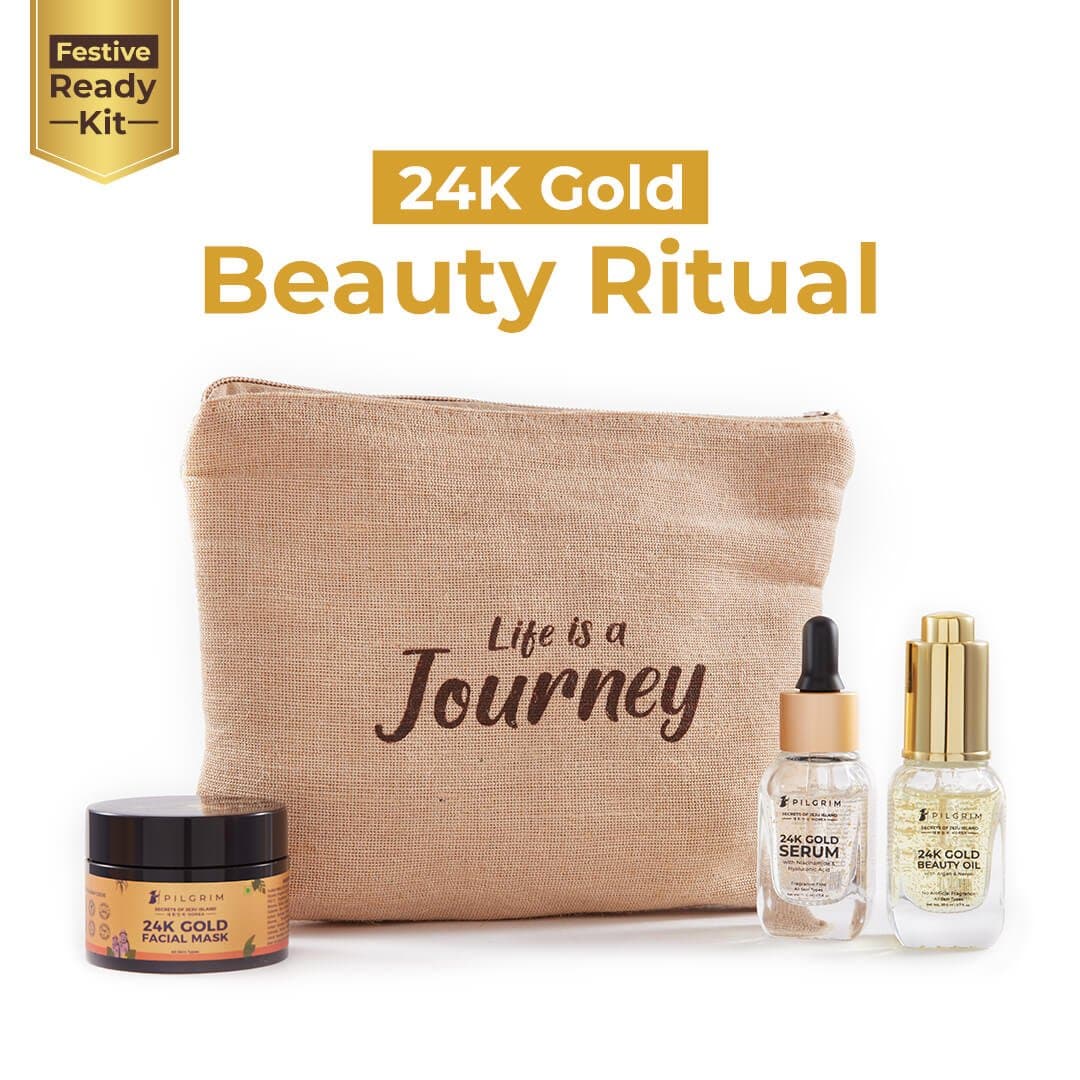 24K Gold Beauty Ritual
Discover A Premium Golden Glow
MRP inclusive of all taxes
Free shipping On orders above ₹199
Product Description
A powerful, precious metal, Gold has been used since time immemorial to keep the skin looking fresh and young. 24K Gold particles infuse the deeper layers to nourish, brighten and firm.
Step 1 - Apply mask on cleansed face, leave it on for 20 minutes and rinse. Can be enjoyed twice a week. Step 2 - Apply 3-5 drops of serum to clean & dry skin and spread gently. Do not massage. Step 3 - Follow with the gold facial oil for a golden glow. You can also use it as a primer for makeup.
Pilgrim is "Clean Compatible". Not just free of harmful and toxic chemicals but uses only those ingredients that either enhance the health of our hair & skin or support the effectiveness of formulations.
For best results, try our kit
FAQs
Yes! This kit is unisex and can be used by both men and women.
It can be used by all skin types.
24K Gold, a well-known K-beauty ingredient, adds the much-needed glam needed to celebrate special occasions. The 24K Gold Beauty Ritual works as a pre-party skincare routine as well as a daily ritual for golden glow.
Gifting your Loved ones just got Easy!
you don??t know what to gift your loved ones this season, Just go with this Combo Blindly, I have gifted this to my Friends & they Love it! Plus the Golden Glow Perfect for this Festive Season!
Really made me glittery glow
Loved this ritual so much...loved the mask and the serum along with the gold oil.
Loved the gold serum and oil for my makeup too!
This Gold ritual is soo goood..I use it not just for my skincare but also for my makeup purpose. I mix a few drops of the serum in my eye makeup for an added glitter and also apply it on my arms when I head out for a party for a glittery glam look!
Perfect for golden glow
If you are looking for a golden glow this festive season, then the 24K Gold ritual is your answer. Loved all the ingredients when I went throught the labels of all the products. Gold is somehting i have been wanting to try for a while in skincare...because of its brightening and anti ageing properties. Also loved the hyaluronic acid in the products.
The ritual gave me a golden glow!
I was given this by my mom and we both use it! My favourite is the Gold Facial Mask because I love the texture. It is not a painful peel off mask like others int he market. And leaves skin so so pretty! Love all the products