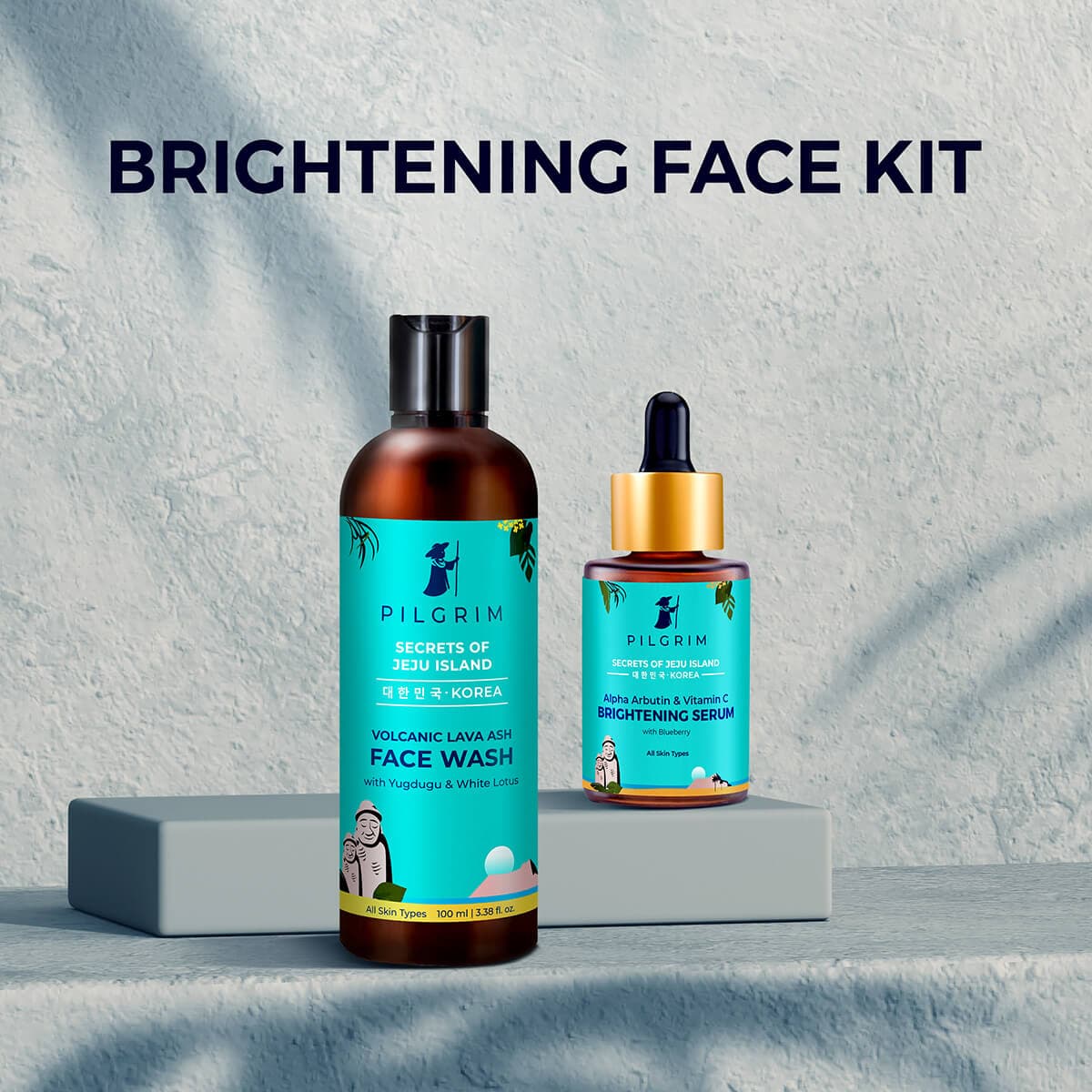 Brightening Face Kit
For Skin Brightening & Even Skin Tone
MRP inclusive of all taxes
Free shipping On orders above ₹199
Product Description
We have the perfect skincare ritual to brighten your skin. Pilgrim Brightening Face Kit features best-selling Volcanic Lava Ash Face Wash and the double-magic Alpha Arbutin & Vitamin C Face Serum. Volcanic Lava Ash deeply cleanses the skin, without irritating it so you can safely use...
Face Wash Moisten face and neck. Massage the cleanser in with gentle circular motions using only your fingertips for 20-30 seconds. Rinse and pat dry with hands or washcloth. Brightening SerumApply 3-5 drops of serum to clean and dry skin before creams, oils or moisturizers. Spread evenly across the face and neck with your fingertips. Gently pat it on for enhanced absorption.
Pilgrim is "Clean Compatible". Not just free of harmful and toxic chemicals but uses only those ingredients that either enhance the health of our hair & skin or support the effectiveness of formulations.
For best results, try our kit
FAQs
Yes! This ritual is unisex and can be used by both men and women.
It can be used by all skin types.
The Brightening Face Kit brightens skin instantly, reduces pigmentation and gives you pollution-proof skin.
Love all your products❤️❤️❤️
Started with one pilgrim product and now I have almost every product!
Incredible product!!!
After trying so many products, finally I got a product which suits me! Thank you Pilgrim!
So in love with your products!!
Take my money and give me your products❤️
Great results
Really glad that my friend recommended me this! Absolutely loving it!
WOW!!
Discovered this product out of nowhere and now I am loving it!