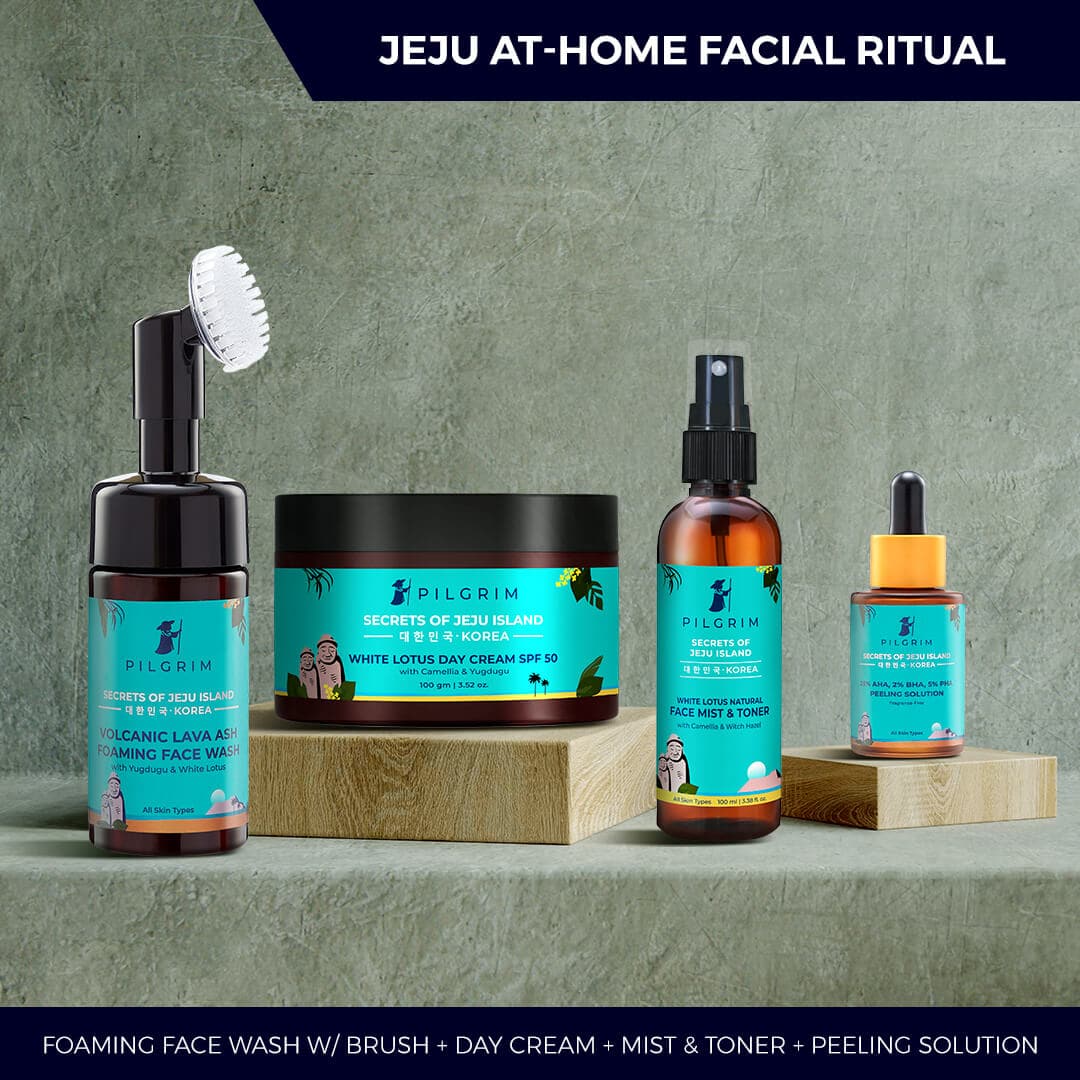 K-Beauty At-Home Facial Ritual
Discover Clear, Luminous Skin
MRP inclusive of all taxes
Free shipping On orders above ₹199
Product Description
Pamper yourself with the Jeju At-Home Facial Ritual for youthful, refreshed skin. Cleanse your skin with the gentle yet effective foaming face wash enriched with Korean beauty power ingredient Volcanic Lava Ash. Make sure your skin is completely dry before applying the quick...
Foaming Face Wash: Take 1-2 pumps. Apply to pre-moistened skin. Gently massage for a couple of minutes using the brush in circular motions. Rinse off with lukewarm water. Let the skin air dry. Peeling Solution: Apply an even layer to clean, dry skin. Wash off within 10 minutes (If you have dry skin, wash off within 5 minutes). May cause slight tingling. Rinse thoroughly with warm water and pat dry. Follow up with a non-irritant, gentle moisturiser. It is recommended to use the peel once a week. Also, the use of broad-spectrum sunscreen during the day is highly recommended while using this product. Face Mist & Toner: On a clean face & neck, spray from 6-8 inches away, with eyes closed & lips gently pursed. Let it sit & dry. Day Cream Moisturiser: Take a small amount and dab all over a clean, toned face and neck. Massage in upward - outward motion until the cream is absorbed fully.
Pilgrim is "Clean Compatible". Not just free of harmful and toxic chemicals but uses only those ingredients that either enhance the health of our hair & skin or support the effectiveness of formulations.
For best results, try our kit
FAQs
Yes! This ritual is unisex and can be used by both men and women.
It can be used by all skin types.
The Jeju At-home Facial Ritual gently exfoliates, brightens and nourishes to reveal baby-soft, youthful skin.
My fav international beauty brand
I always wanted to try an international beauty brand, and the skincare products by Pilgrim made my dream come true! Loved it!!
Happy with my purchase
This is one of Pilgrim's best products, and I am so glad I finally got the chance to try it out! I am surely going to repurchase this as soon as this gets over. Try it out, people!
This over everything else
You can use anywhere for ultra hydration
Loved the fabulous VEGAN product by Pilgrim
If you are someone like me who likes to go full board with vegan products, then Pilgrim should be your go-to company as they have everything a vegan could ask for! The product is amazing, and my skin feels so good and happy!
My favorite product!
Heard about it from one of my friends, its definitely worth purchasing