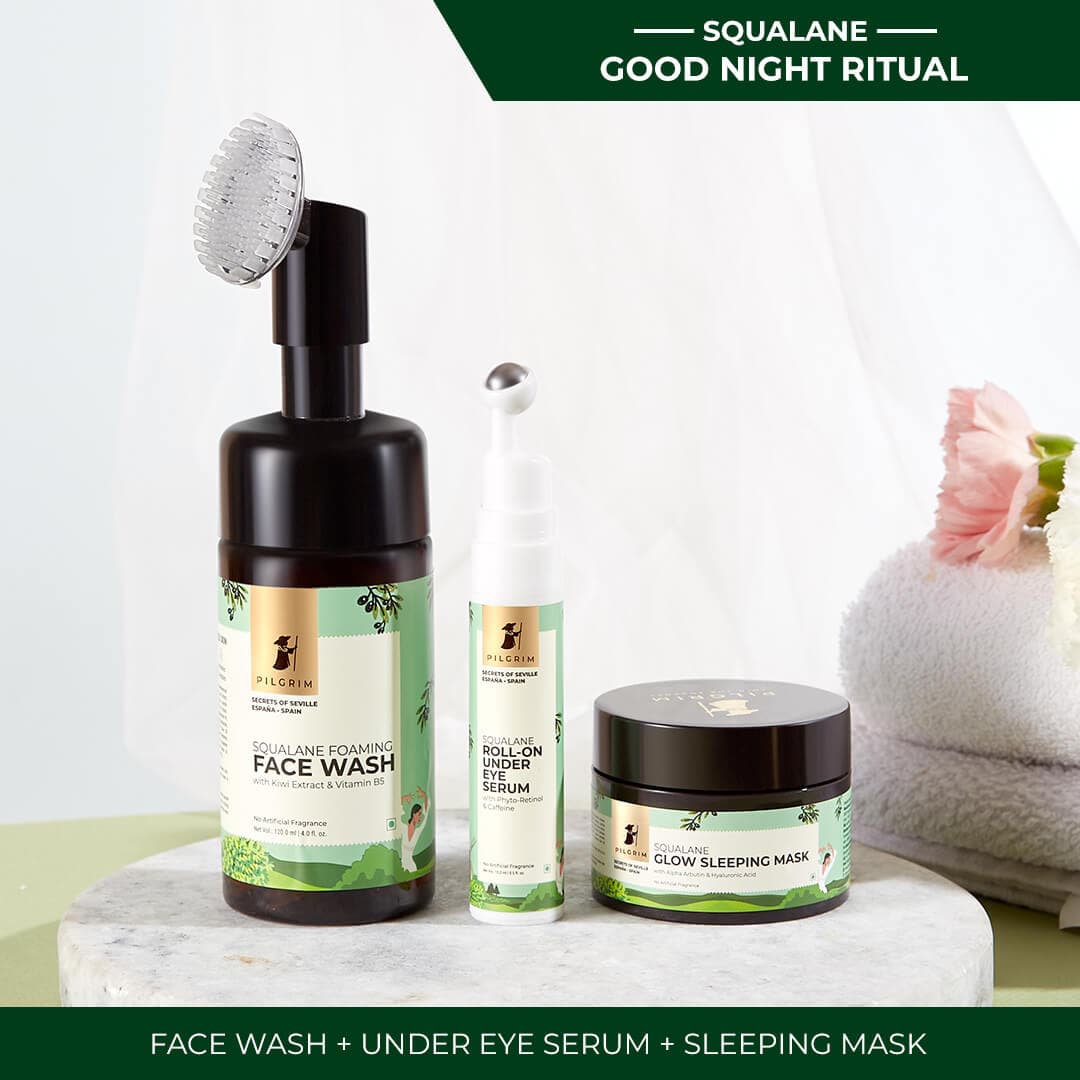 Spanish Good Night Ritual
Wake up to hydrated & glowing skin!
MRP inclusive of all taxes
Free shipping On orders above ₹199
Step 1: Cleanse with foaming face wash using the brush in gentle circular motions for 30 seconds. Step 2: Use the roller to gently massage the under eye area for 30 seconds. Step 3: Apply a grape-sized amount of the overnight sleeping mask on clean skin twice or thrice a week.
Pilgrim is "Clean Compatible". Not just free of harmful and toxic chemicals but uses only those ingredients that either enhance the health of our hair & skin or support the effectiveness of formulations.
For best results, try our kit
FAQs
Yes! This ritual is unisex and can be used by both men and women.
It can be used by all skin types.
The Good Night Ritual From Spain is a night skincare kit that brightens, firms and hydrates.
Im Shocked with the results
Its Totally Worth it
This stuff is magic and if this cost even [twice as much], I would still buy it.
This over everything else
You can use anywhere for ultra hydration
Got so many compliments
The glow sleeping mask is such a help with my skin...and also the foaming face wash...its so gentle and makes my skin breathe! All the products toghether work as a night care routine to make the skin soft. I have got so many compliments for my look since I have started using it. Thank you!
Makes nightime skincare easy
I have been searching that will make my nightime skincare routine easy. Since my 30th bday, I was thinking of how to make my skincare easier and more conviennt and a habit. Pilgrim is my favourite skincare brand and I saw this new range ritual...it was perfect for me. It has made everything so much easier for me...because it is only 3 products but the results are amazing. So easy to do!