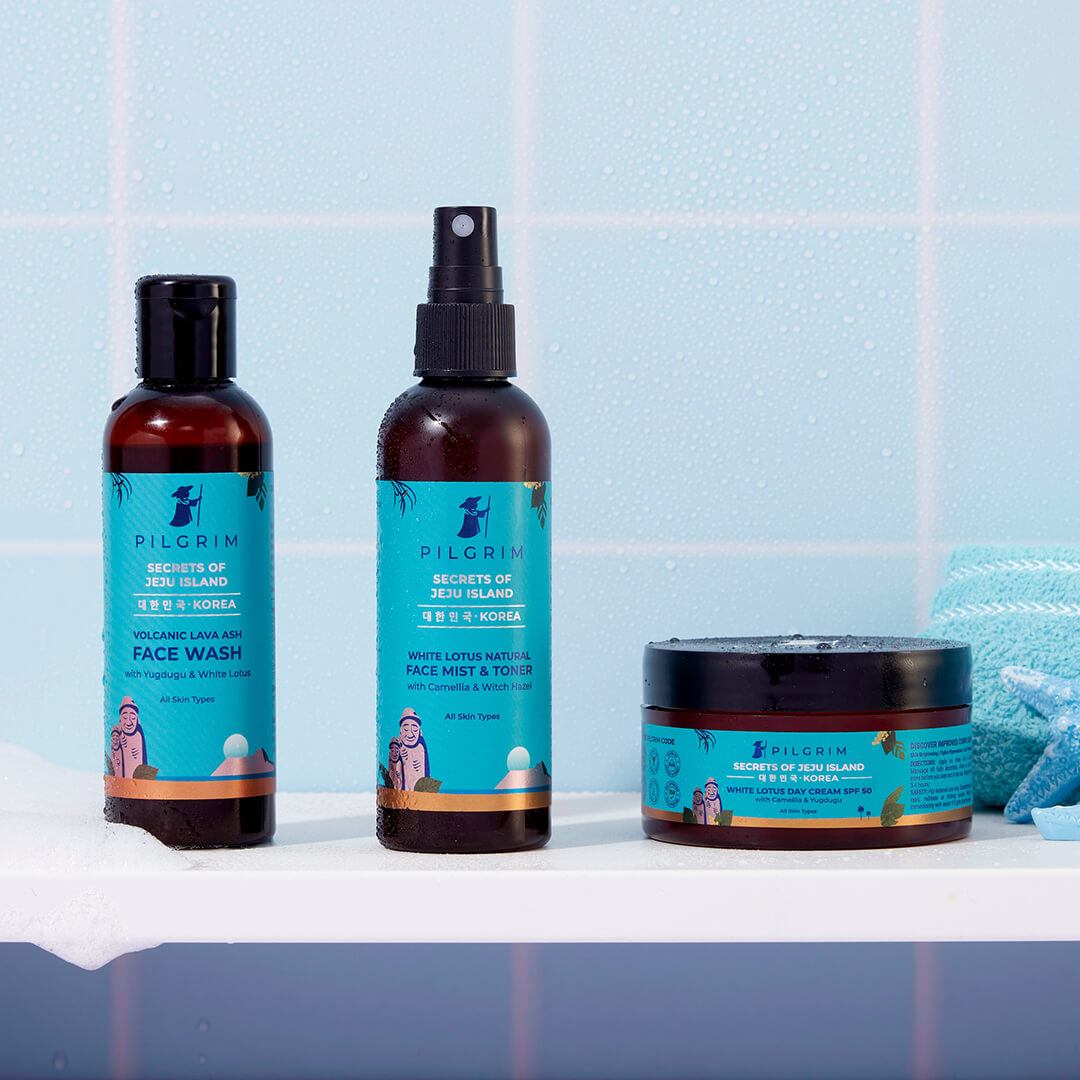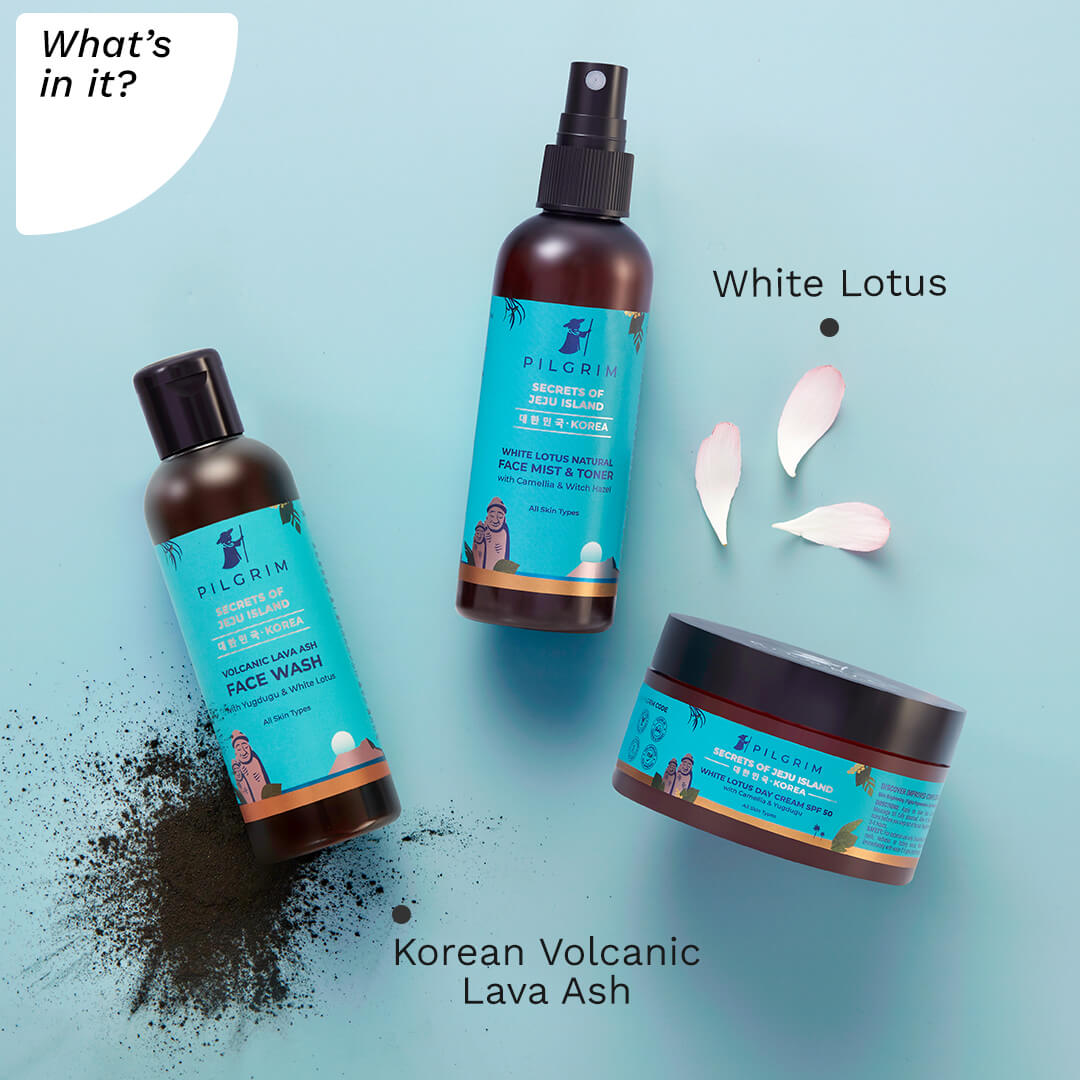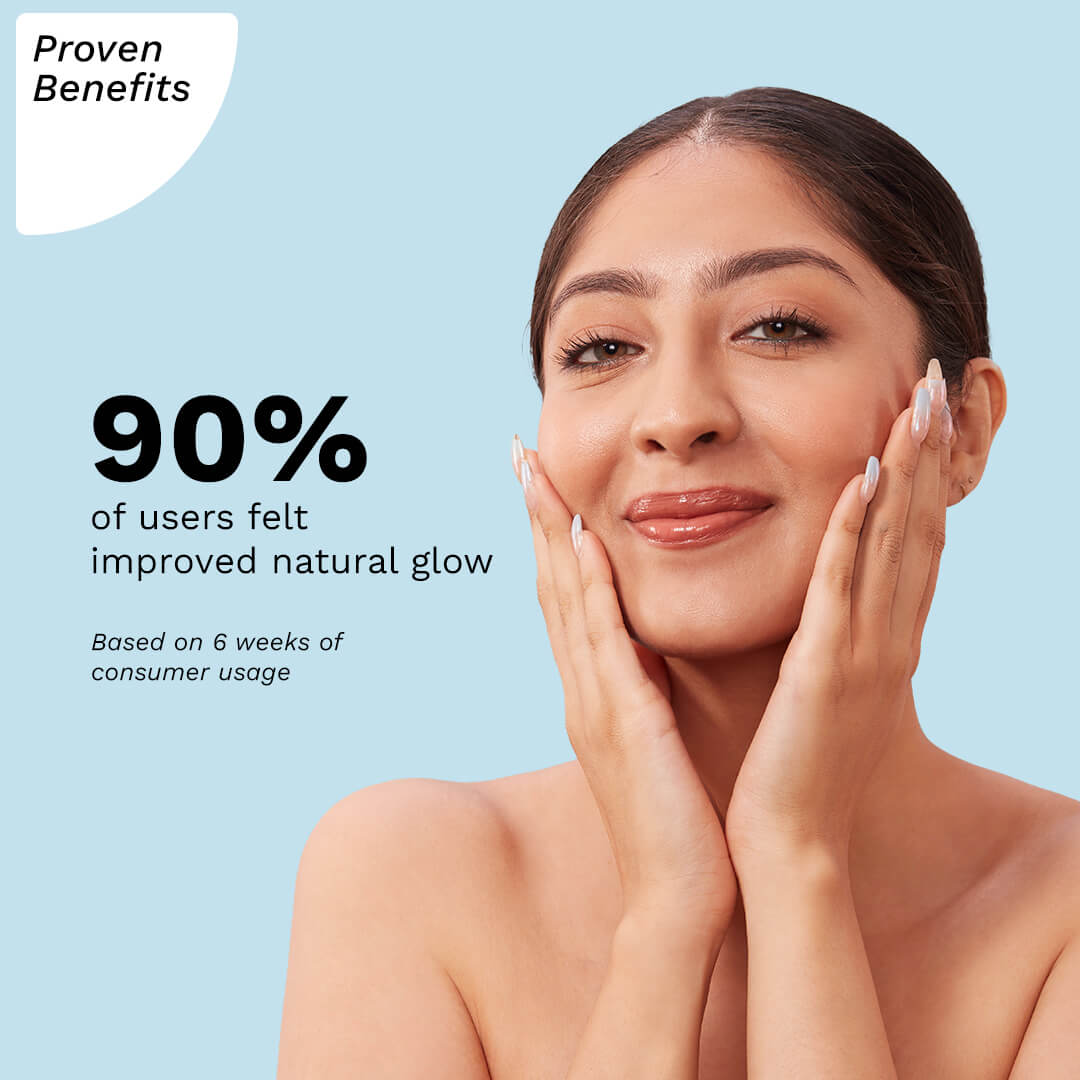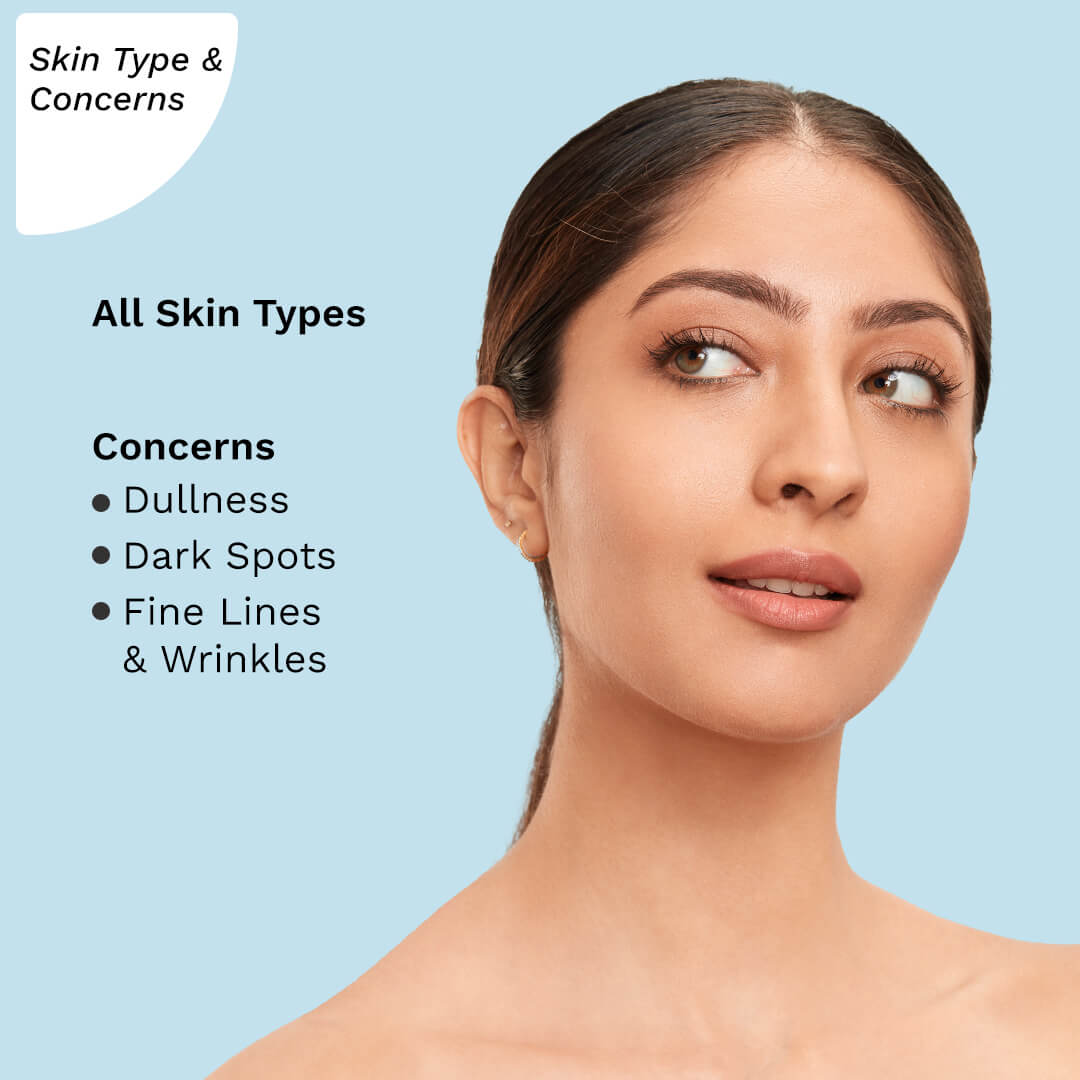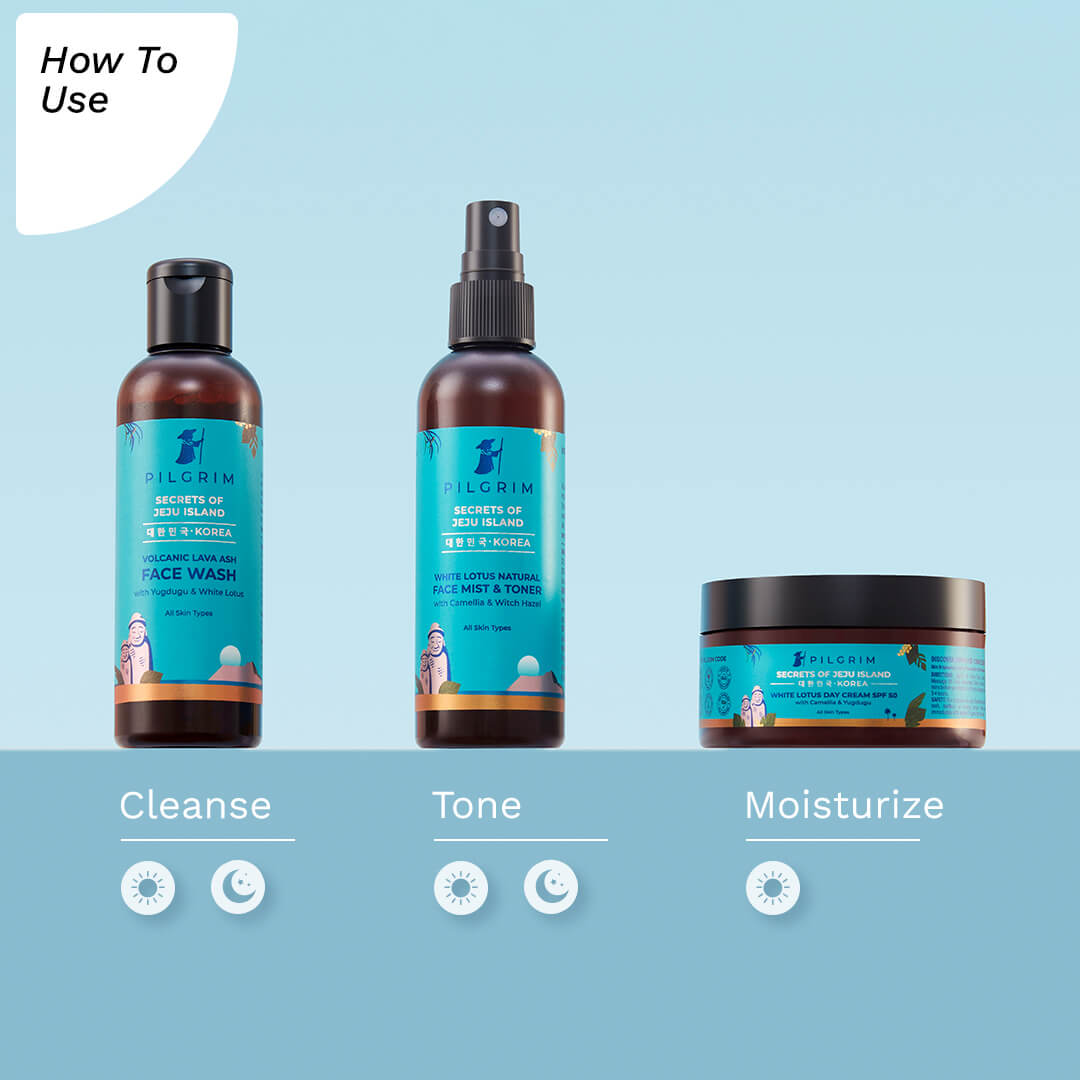 Korean Beauty Daily Glow Kit
Discover Improved Complexion
MRP inclusive of all taxes
Active Offers
Buy 1 Get 1 Free
BUY 1 GET 1 FREE on this product.
Discount will be auto applied
Free shipping On orders above ₹199
Product Description
This kit contains🎁
Volcanic Lava Ash Face Wash
Net Vol.:100 ml | 3.38 fl.oz
White Lotus Natural Face Mist & Toner
Net Vol.: 100 ml | 3.38 fl.oz
White Lotus Day Cream SPF 50
Net Vol.: 100 gm | 3.52 oz.
Suitable for: All Skin Types
Experience the Korean Beauty...
of users felt improved natural glow
*Based on 6 weeks of consumer usage
• Cleanse
- Apply on damp face. Gently massage & rinse.
––––
Day Night
• Tone
- Spritz from 6-8 inches away, with eyes closed & lips pursed.
––––
Day Night
• Moisturize
- Apply on face & neck.
––––
Day
Pilgrim is "Clean Compatible". Not just free of harmful and toxic chemicals but uses only those ingredients that either enhance the health of our hair & skin or support the effectiveness of formulations.
For best results, try our kit
FAQs
This Korean Beauty Daily Glow Kit is crafted with to fight dull skin, fade dark spots, fine lines & wrinkles. With the goodness of White Lotus, Camellia & Yugdugu, it deeply replenishes the nutrition required to maintain a healthy glow on your face while protecting it from harmful UV rays. The toner helps soothe, purify and refresh tired skin and provide hydration throughout the day. This face wash acts like a dirt magnet for your skin penetrates deep and unclogs pores from all kinds of pollutants, dust and grime. In all makes it a powerful kit to get that Bright Korean Glow!
We recommend using this product twice a day (AM and PM) for best results.
It is suitable for all skin types.