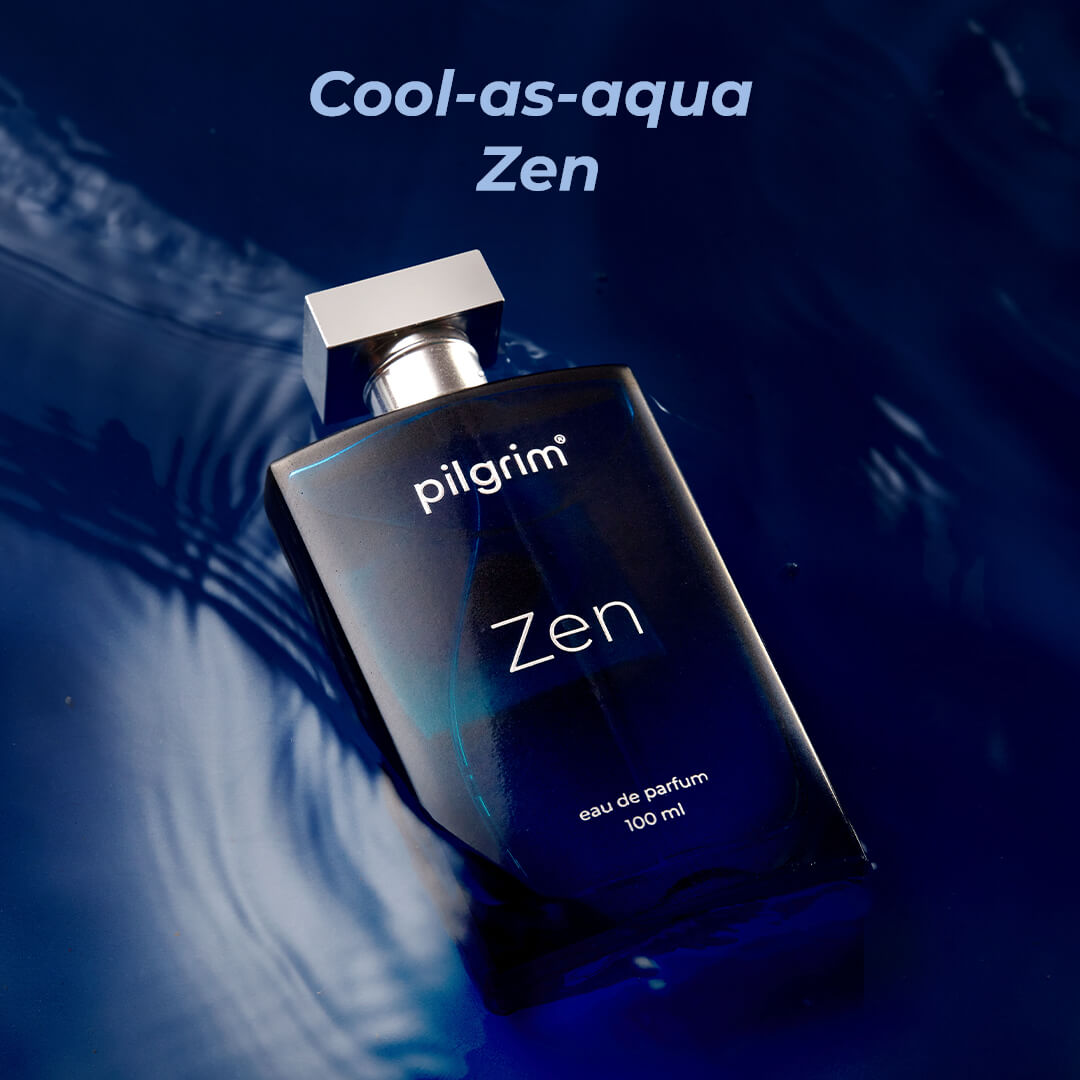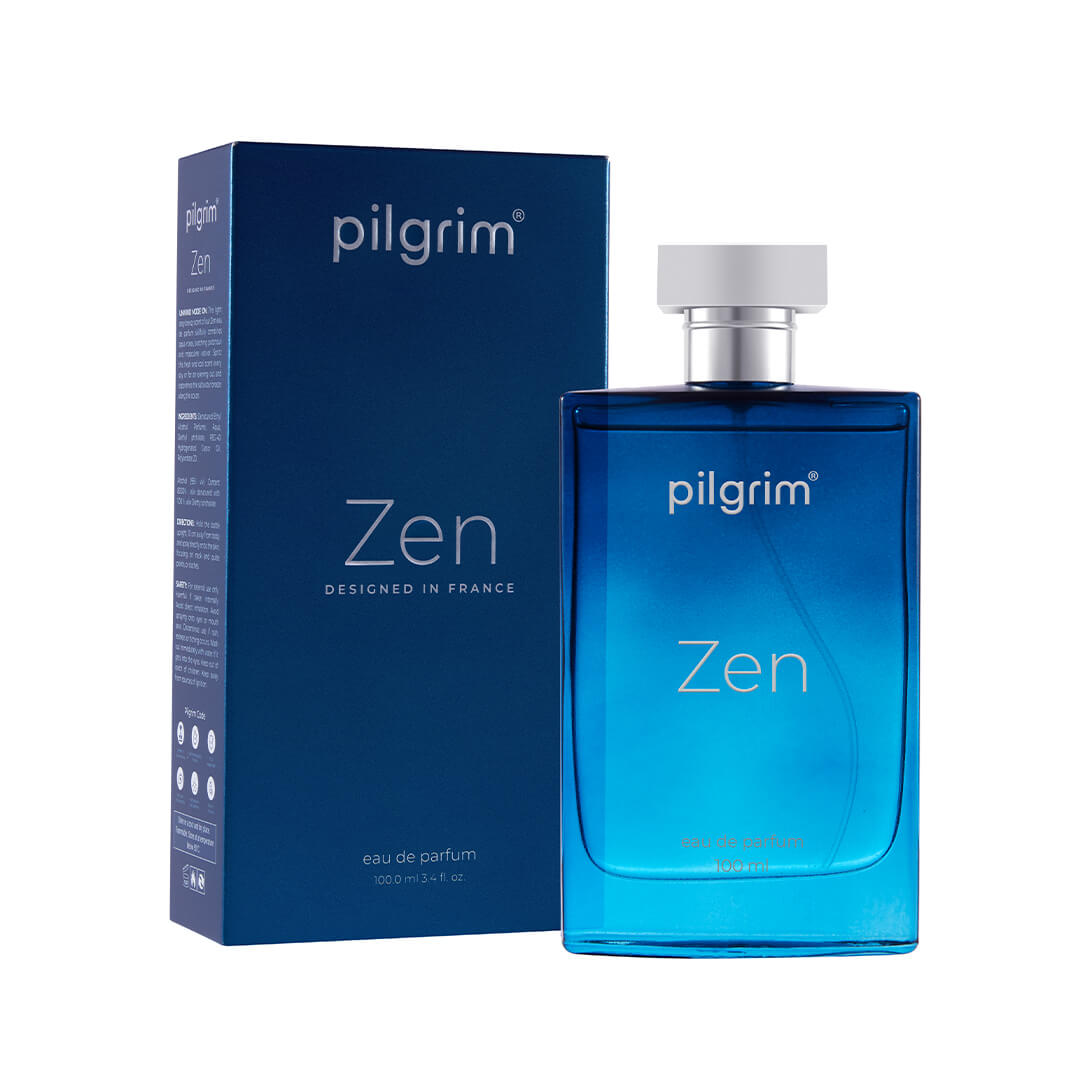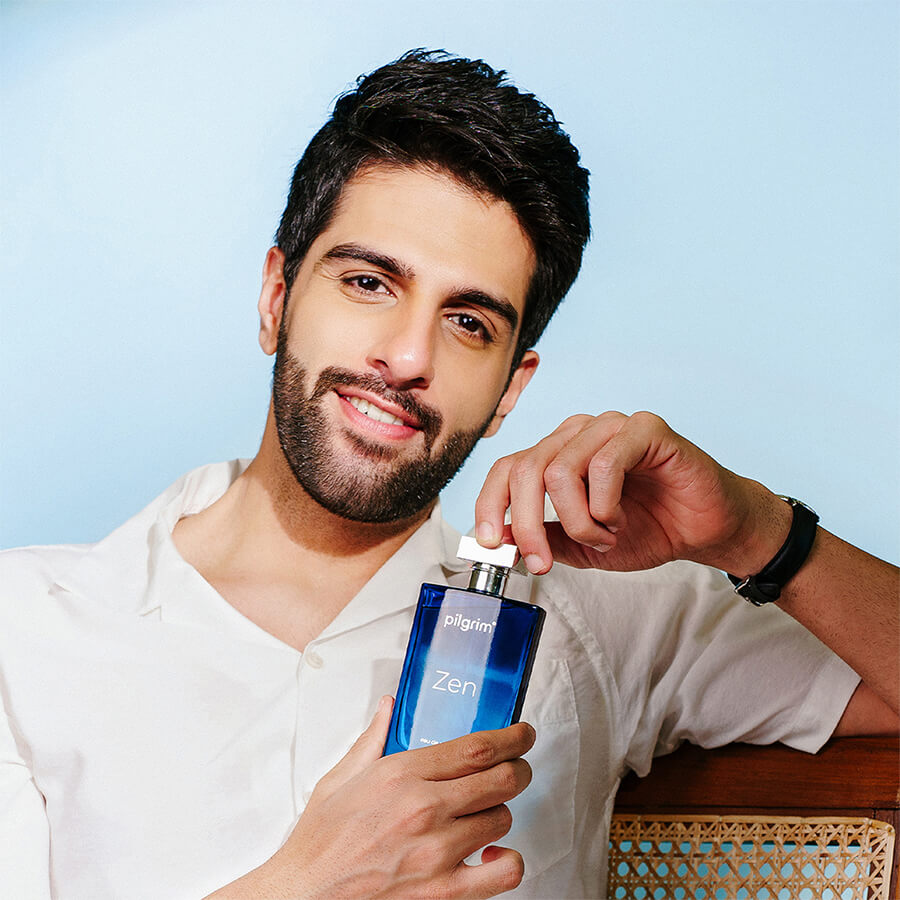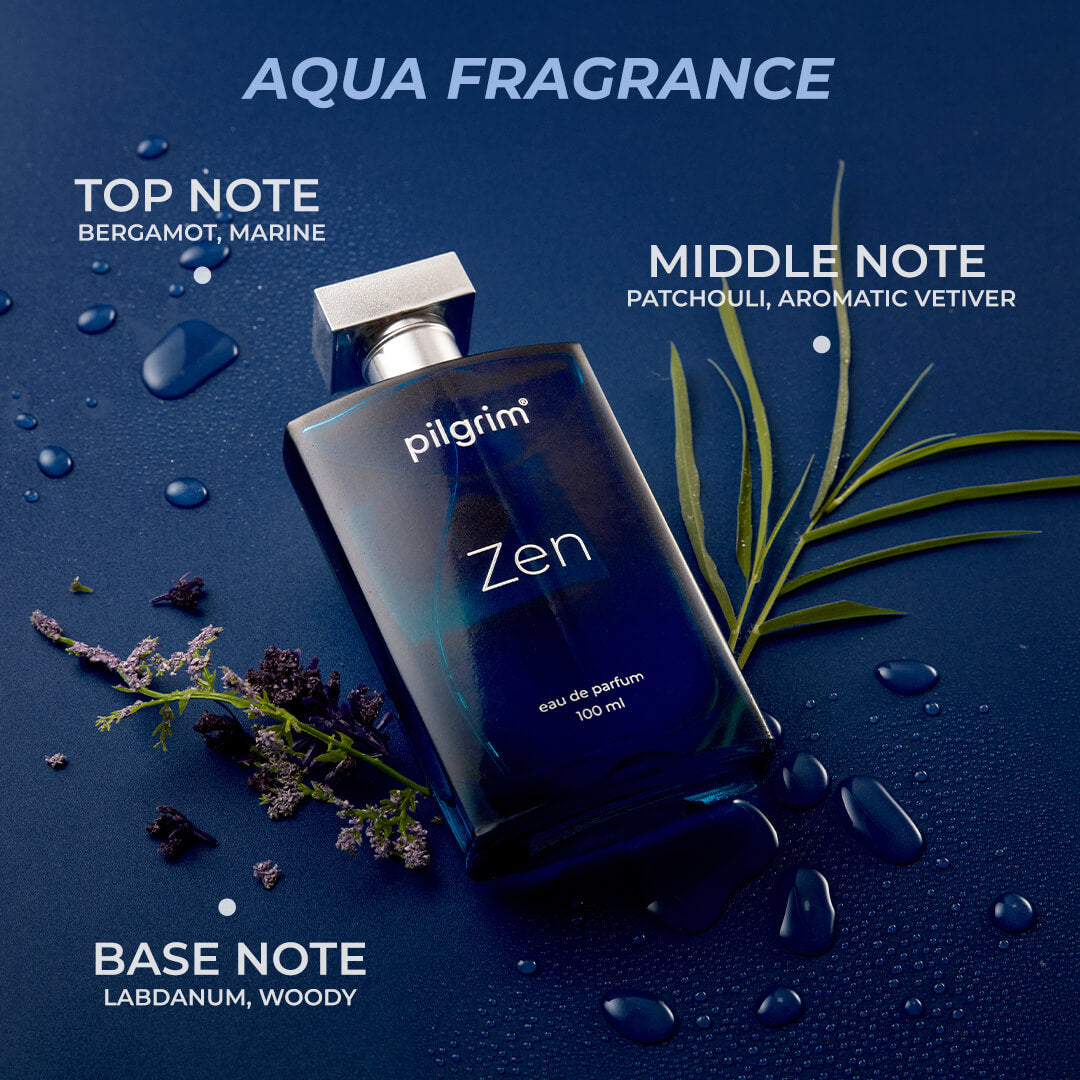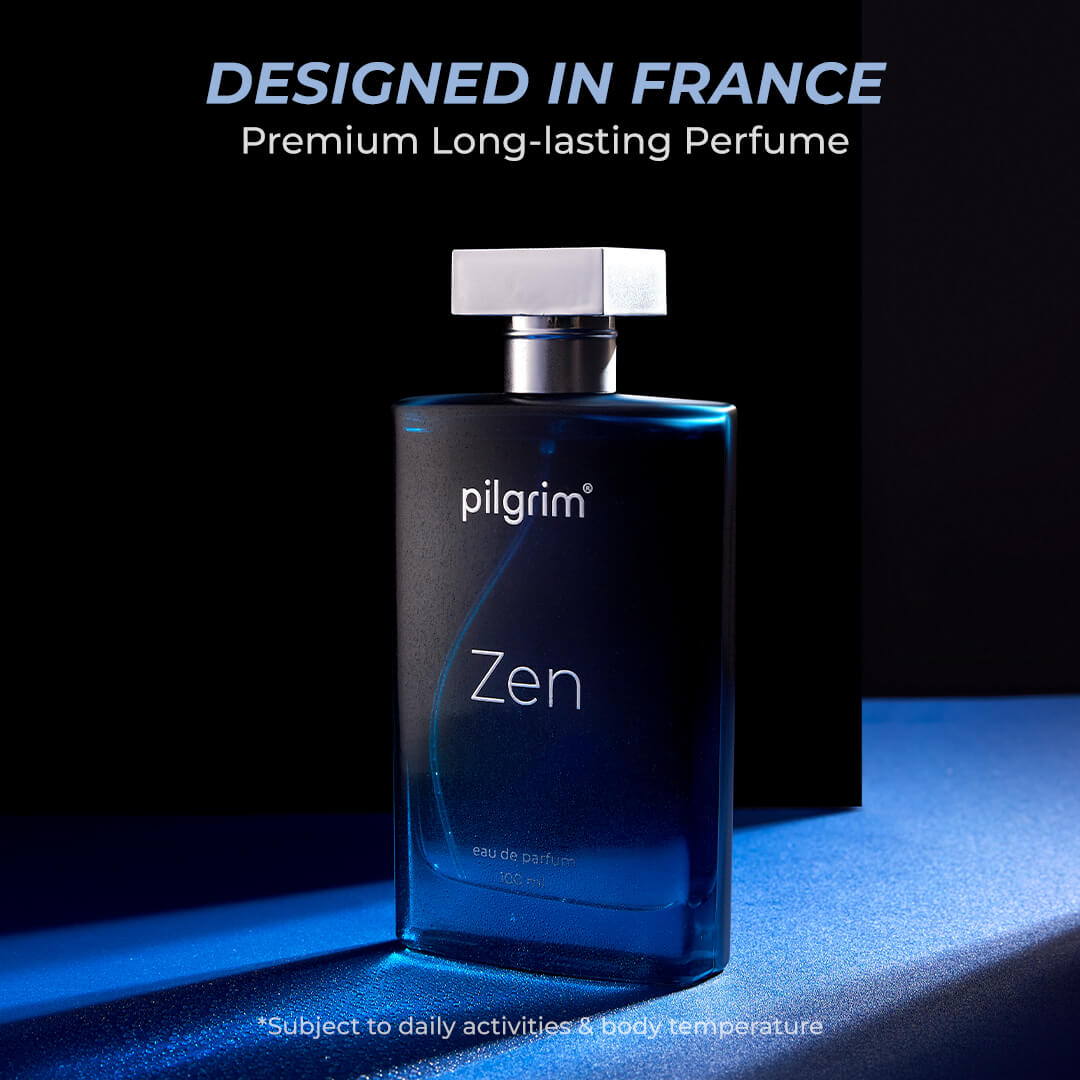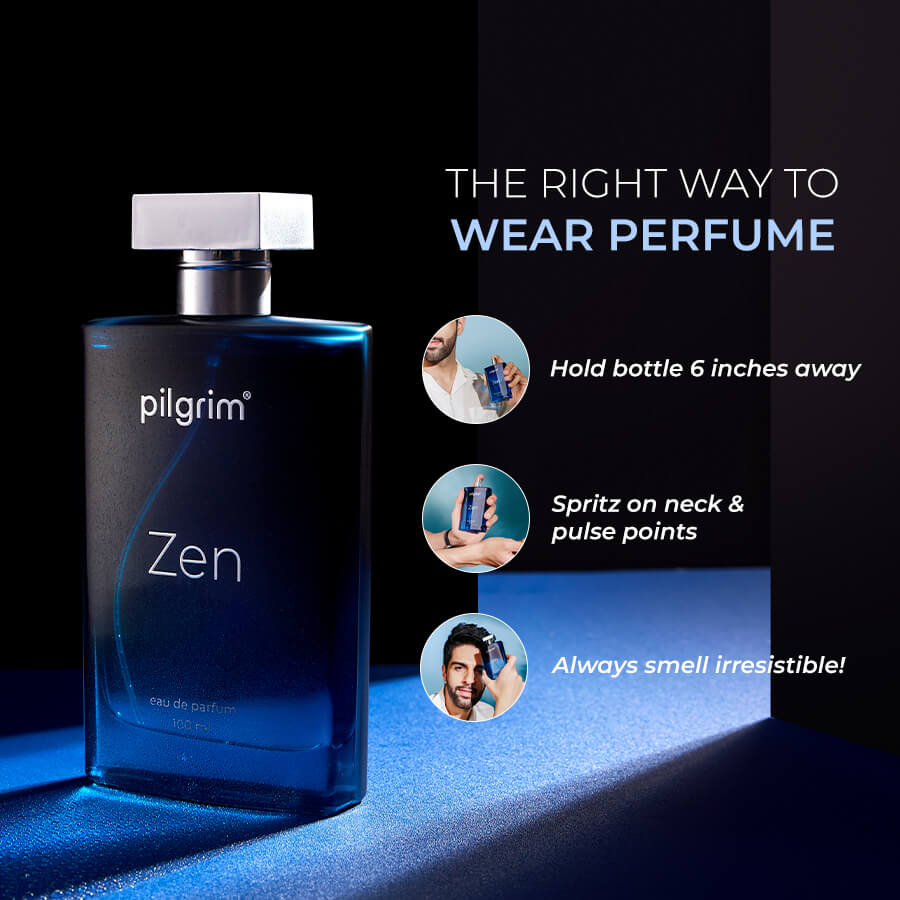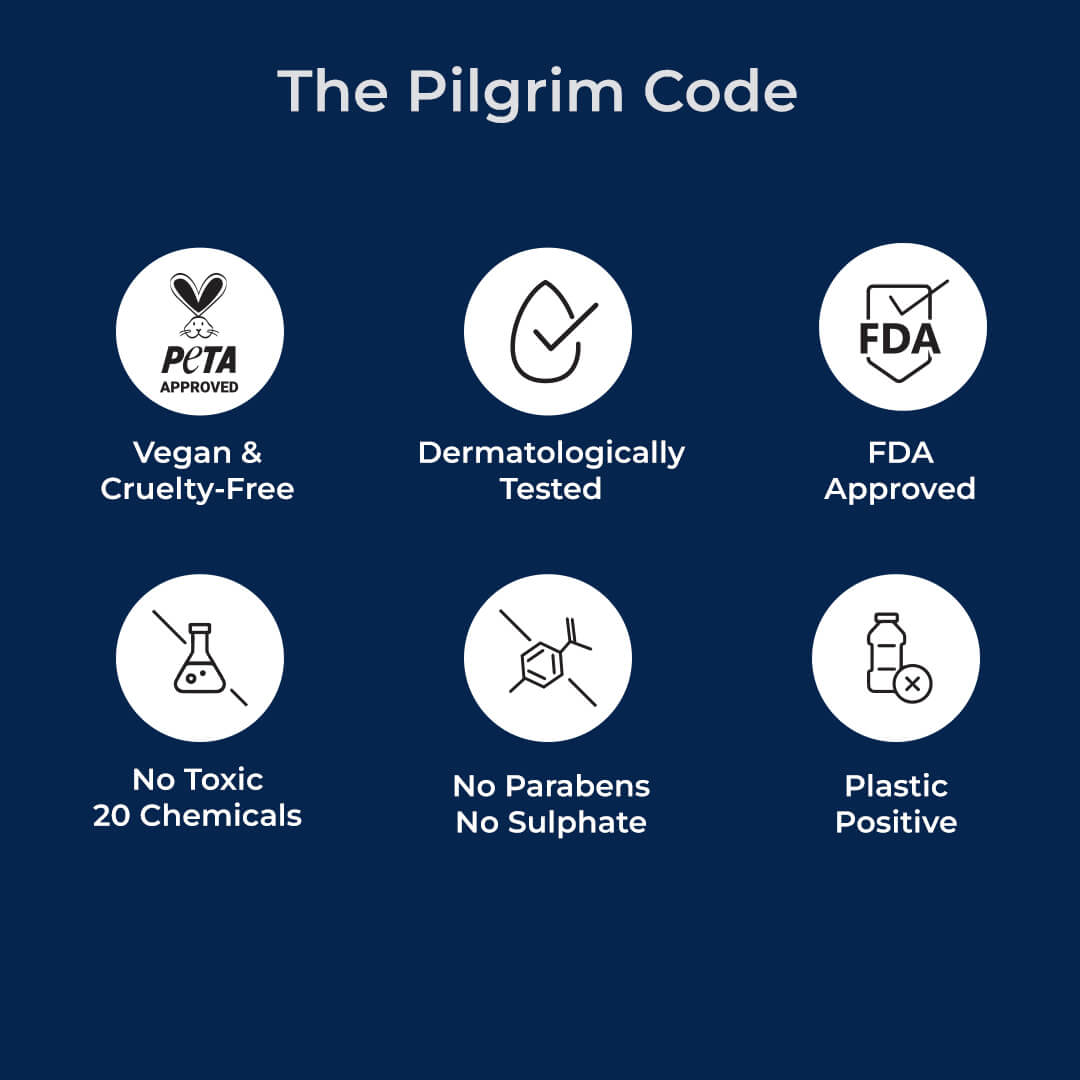 Zen Eau De Parfum
Aqua | Men's Perfume Designed in France | 100 ml
MRP inclusive of all taxes
Free shipping On orders above ₹199
Product Description
Size: 100.0 ml 3.4 fl. oz.

Perfume Notes:
✔ Fresh Aqua
✔ Soothing Patchouli
✔ Masculine Vetiver

Strength: Strong, Long Lasting

Occasion: Fresh Scent for Daily Wear

Introducing Zen, the perfect fragrance for men who want to unwind and relax. Designed in France, this eau de parfum captures the essence of a...
1. Shake bottle well before use. 2. Hold bottle about 6 inches away from body and spritz all over. 3. Spritz on pulse points like neck and wrists for fab freshness!
Pilgrim is "Clean Compatible". Not just free of harmful and toxic chemicals but uses only those ingredients that either enhance the health of our hair & skin or support the effectiveness of formulations.
For best results, try our kit
FAQs
Men's perfume is best applied to pulse points such as the wrists, neck, and chest. Also, apply the fragrance to clean, dry skin and avoid rubbing it in, as this can alter the scent.
It's generally recommended to spray on your skin rather than your clothes. This is because fragrances are designed to interact with the natural oils and pH levels of your skin, which can affect how the fragrance smells and how long it lasts.
Yes, this perfume can be layered with other fragrances to create a unique scent.
Refreshing & Lovely
ZEN is a fragrance that truly stands out from the crowd. The combination of aquatic notes and calming patchouli creates an irresistible scent that's perfect for any man looking to make a statement. Another thing that sets ZEN apart is its attention to detail. From the sleek bottle design to the carefully curated blend of ingredients, every aspect of this fragrance has been thoughtfully considered. It's a true testament to the art of perfumery.
Just mesmerizing
If you're on the hunt for a fragrance that's both refreshing and relaxing, look no further than ZEN. With its delightful mix of aqua notes and patchouli, this scent is perfect for those who love to stay fresh and composed, even after a long day. Plus, it lasts for over 8 hours, which is impressive.
Smells as if you are in the ocean
ZEN is my absolute favorite! The combination of refreshing aqua notes and calming patchouli is a match made in heaven. It's the perfect scent for winding down after a long day at work or for a laid-back brunch with friends. Plus, the fragrance lasts for a whopping 8 hours or more, which is an incredible bonus. Trust me, once you try ZEN, you'll never want to wear anything else!
Wish I found it earlier
I love ZEN! It is an unique mix of aqua notes & soothing patchouli which makes it perfect for an outing after a long day of work or just for a brunch. The scent lasts for more than 8 hours soits like a plus point.
Zen feels like Zen
If you're looking for a fragrance that's both unique and timeless, ZEN is the one for you.One of the things I love most about ZEN is its versatility. The aqua notes make it perfect for a day at the beach or any outdoor adventure, while the patchouli provides a sense of calm and grounding, making it ideal for winding down after a long day at work.