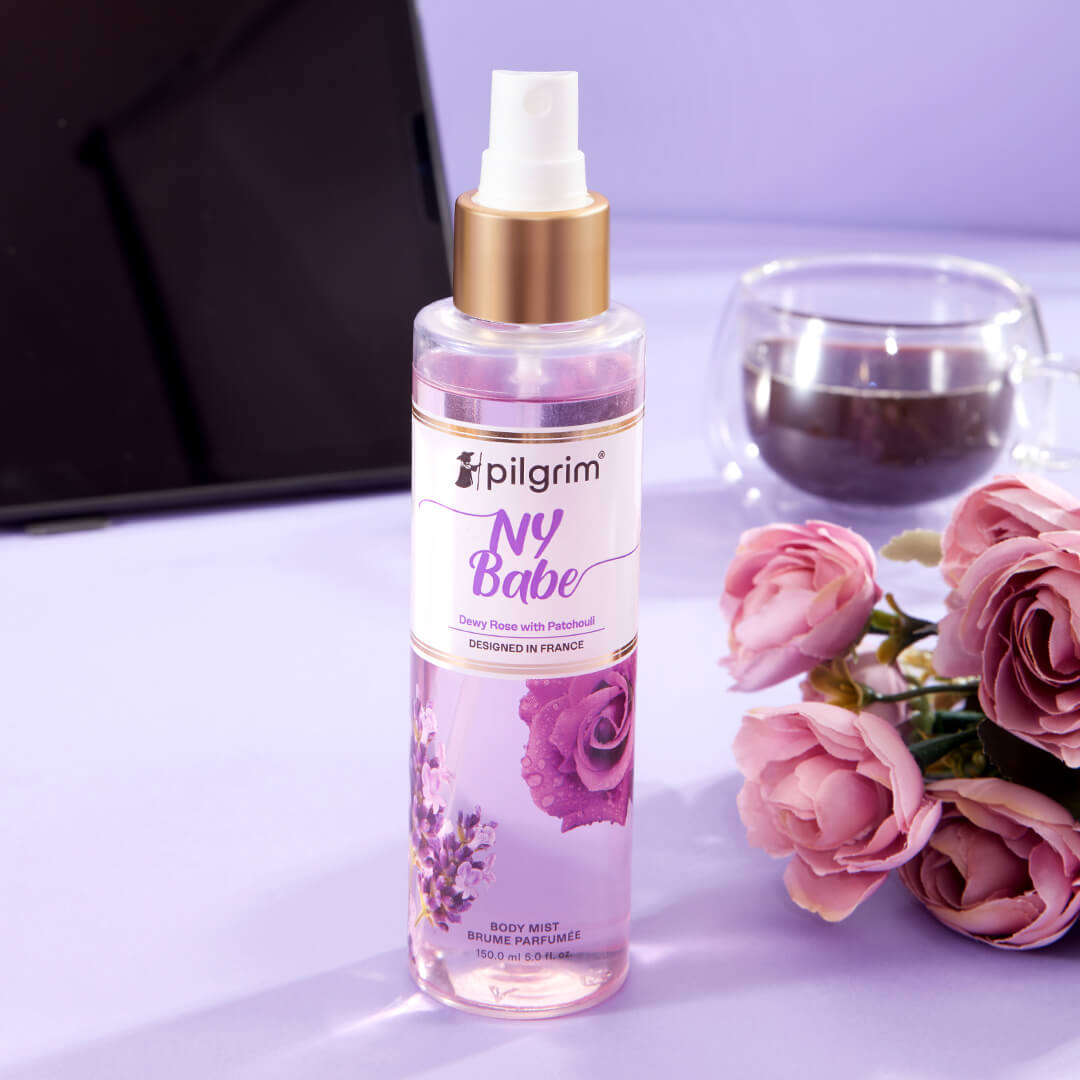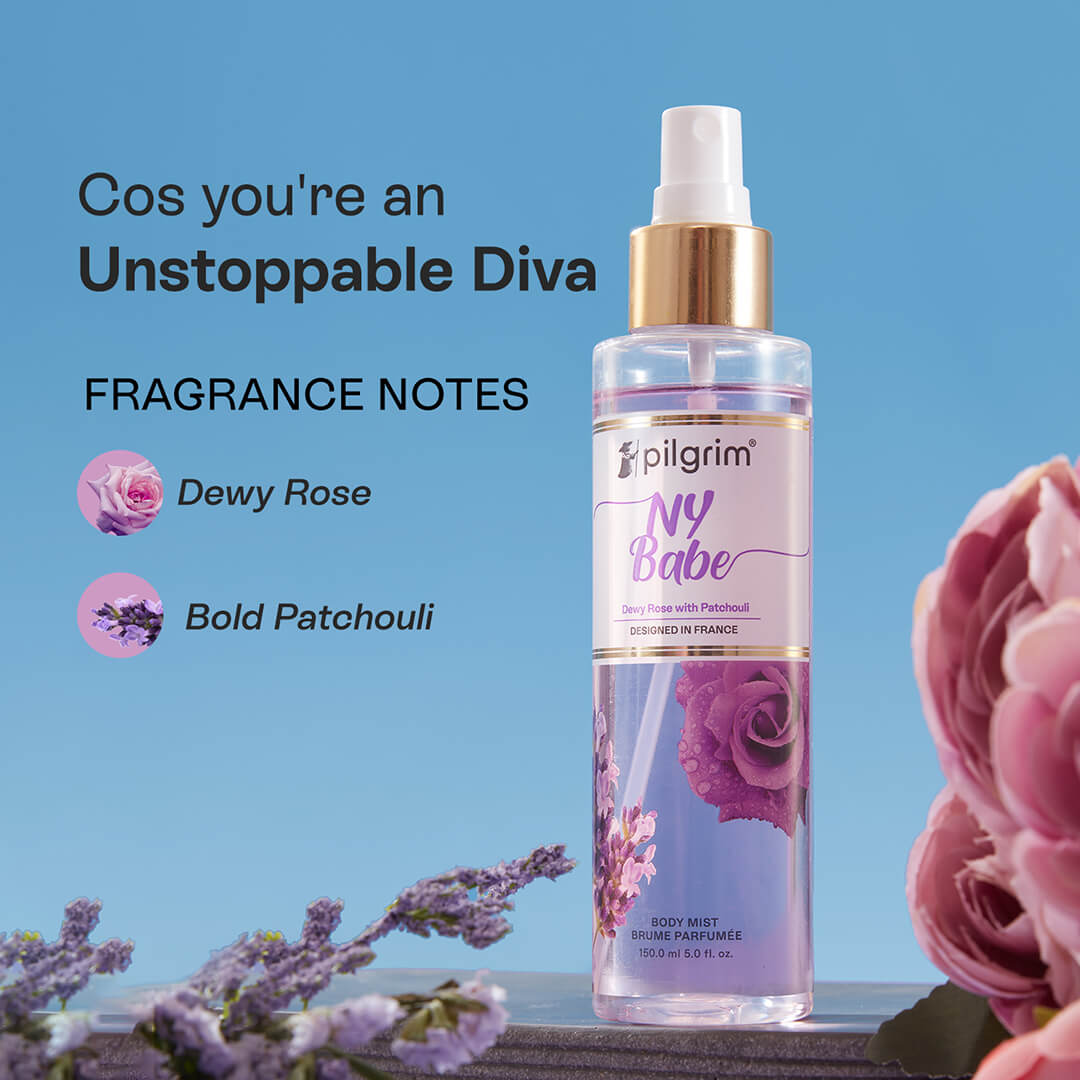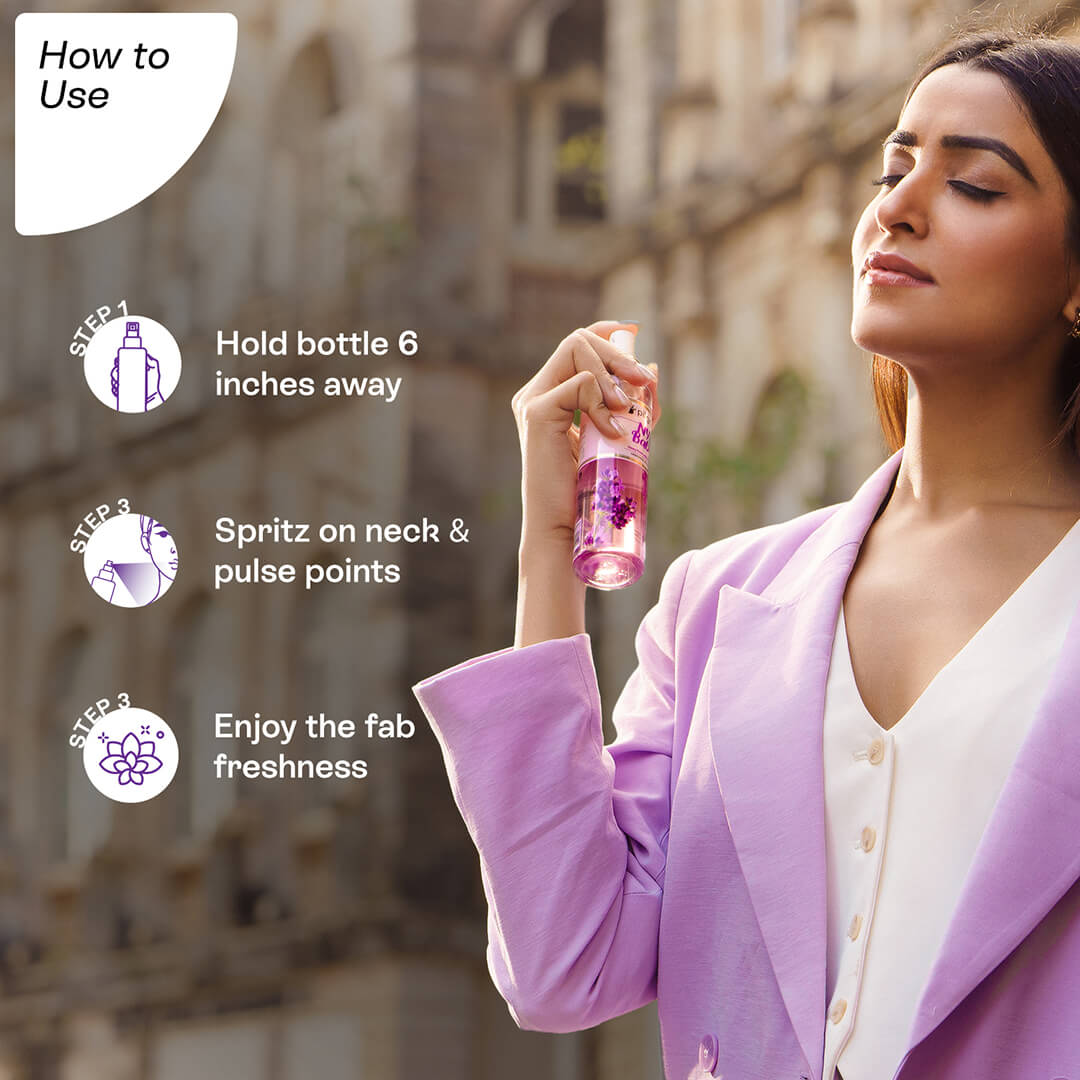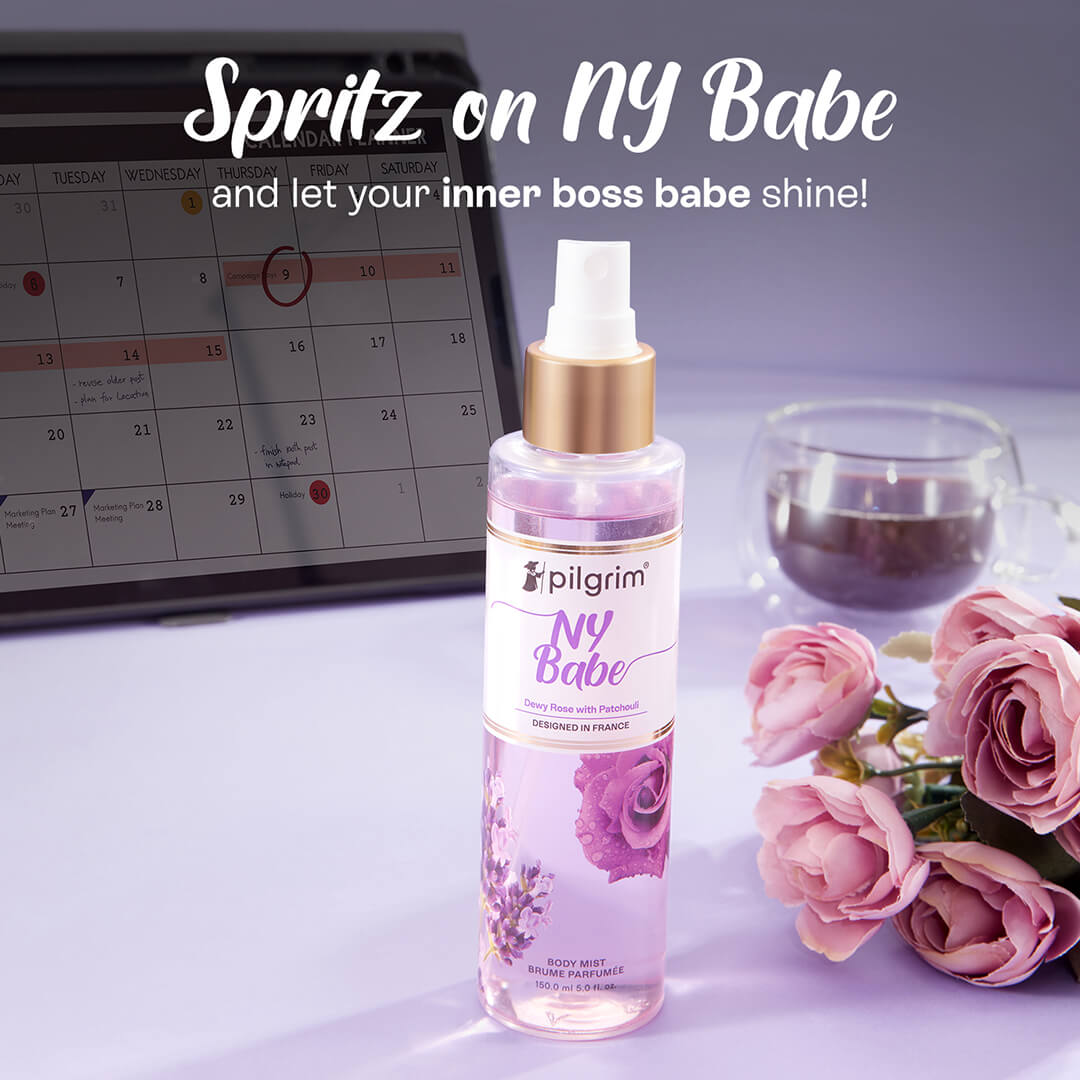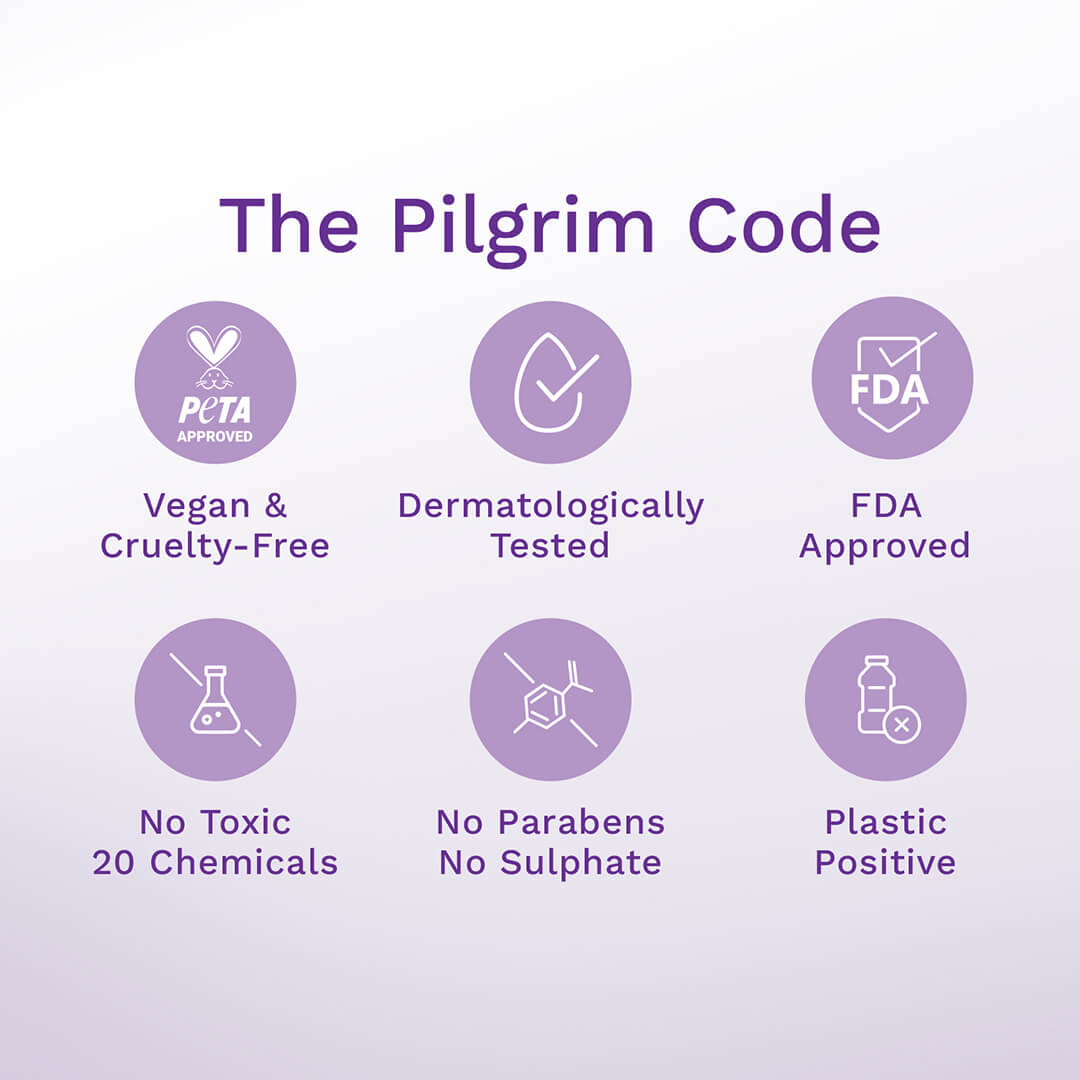 NY Babe Body Mist
Dewy Rose with Patchouli | Long-lasting Body Spray For Women | 150ml
MRP inclusive of all taxes
Active Offers
BUY 3 AT 899
Shop any 3 eligible products at ₹899
Code will be auto applied at cart
Free shipping On orders above ₹199
Product Description
Size: Net Vol.: 150.0 ml 5.0 fl. oz.

Fragrance Notes
✔ Top Notes: Citrus, Pear
✔ Middle Notes: Jasmine, Rose
✔ Bottom Notes: White Musk, Vanilla

Strength: Medium

Emotions: Confident, In Charge, Bold

Meet NY Babe, a body mist expertly crafted in France that's perfect for the ambitious and confident...
1. Shake bottle well before use. 2. Hold bottle about 6 inches away from body and spritz all over. 3. Spritz on pulse points like neck and wrists for fab freshness!
Pilgrim is "Clean Compatible". Not just free of harmful and toxic chemicals but uses only those ingredients that either enhance the health of our hair & skin or support the effectiveness of formulations.
For best results, try our kit
FAQs
A body mist is a fragrance spray designed to lightly scent the skin without being overpowering. It usually contains less perfume oil than traditional perfumes, making it a lighter and more subtle option.
It's generally recommended to spray on your skin rather than your clothes. This is because fragrances are designed to interact with the natural oils and pH levels of your skin, which can affect how the fragrance smells and how long it lasts.
While body mists can be used as a lighter alternative to traditional perfumes, they are not necessarily meant to replace them. Perfumes often have a more complex and longer-lasting scent, while body mists are designed to provide a refreshing burst of fragrance.
Excellent
Very refreshing awesome for summers… feels so good!
Perfect to feel & smell confident
I recently tried this body mist and I have to say, I was blown away by the scent. I love wearing it after a workout or when I'm running errands. It gives me a burst of energy and makes me feel refreshed and rejuvenated. I would definitely recommend this to anyone looking for a pick-me-up
Smell soo good
Very good perfume Blindly go for it
It smells like : You're The BOSS!
I started using this body mist for work and it's become my secret weapon. It has a bold, empowering scent that makes me feel like I can conquer anything. I've even gotten compliments from my boss on how confident and strong I seem!
This body mist is now my fav😎
I'm so glad I discovered this body mist! It has a unique and powerful scent that helps me feel like a true boss. I love wearing it to important meetings and presentations. It gives me an extra boost of confidence that helps me crush it every time