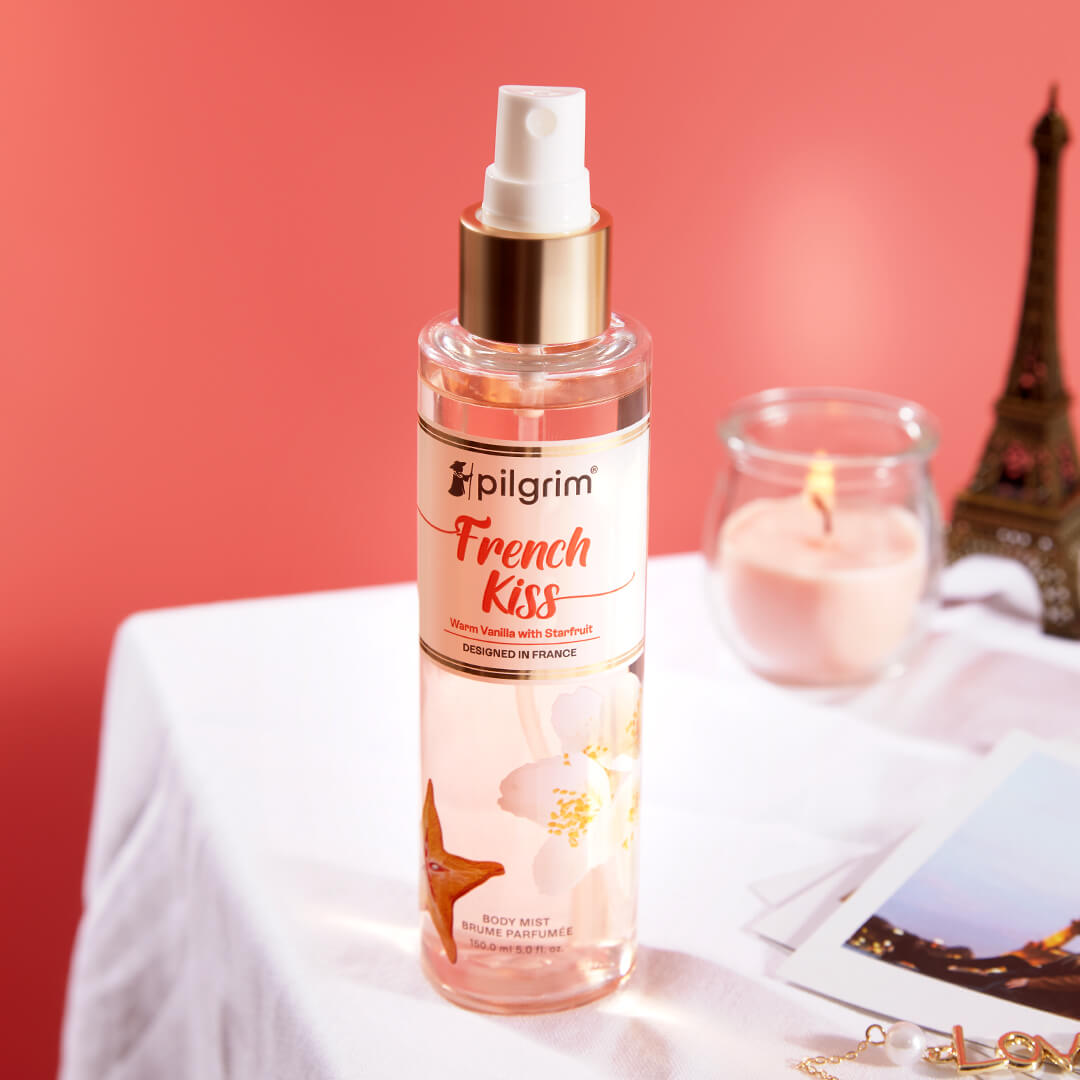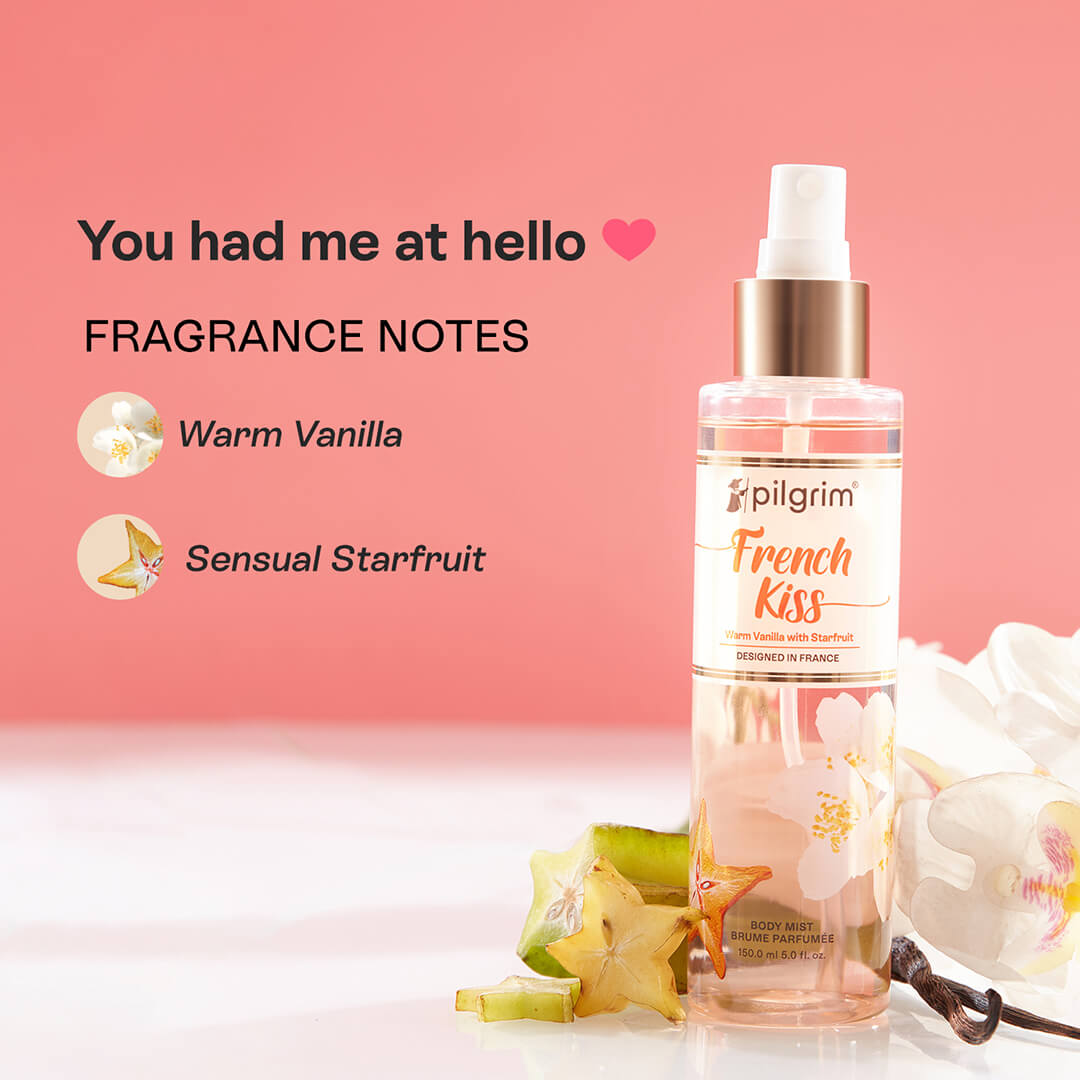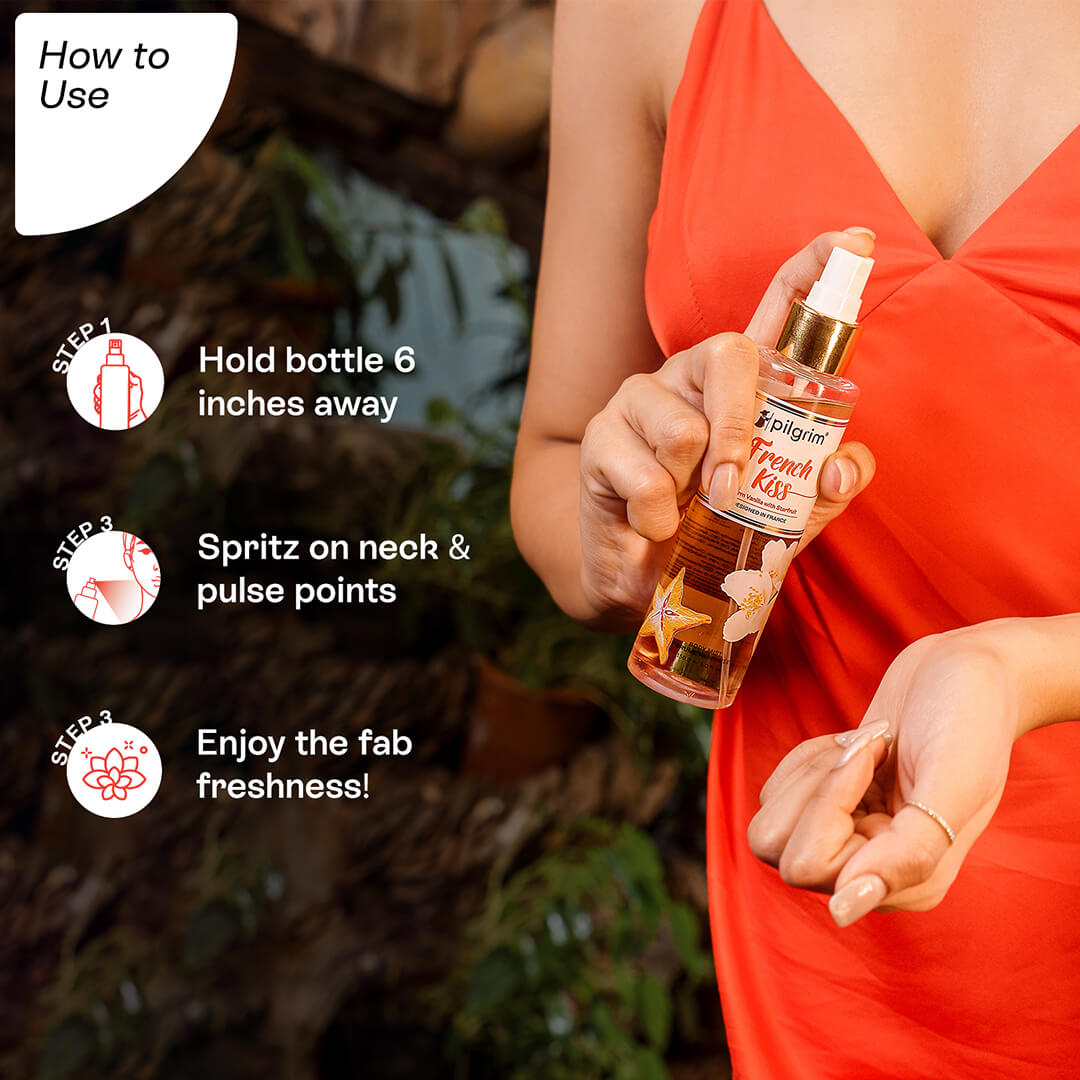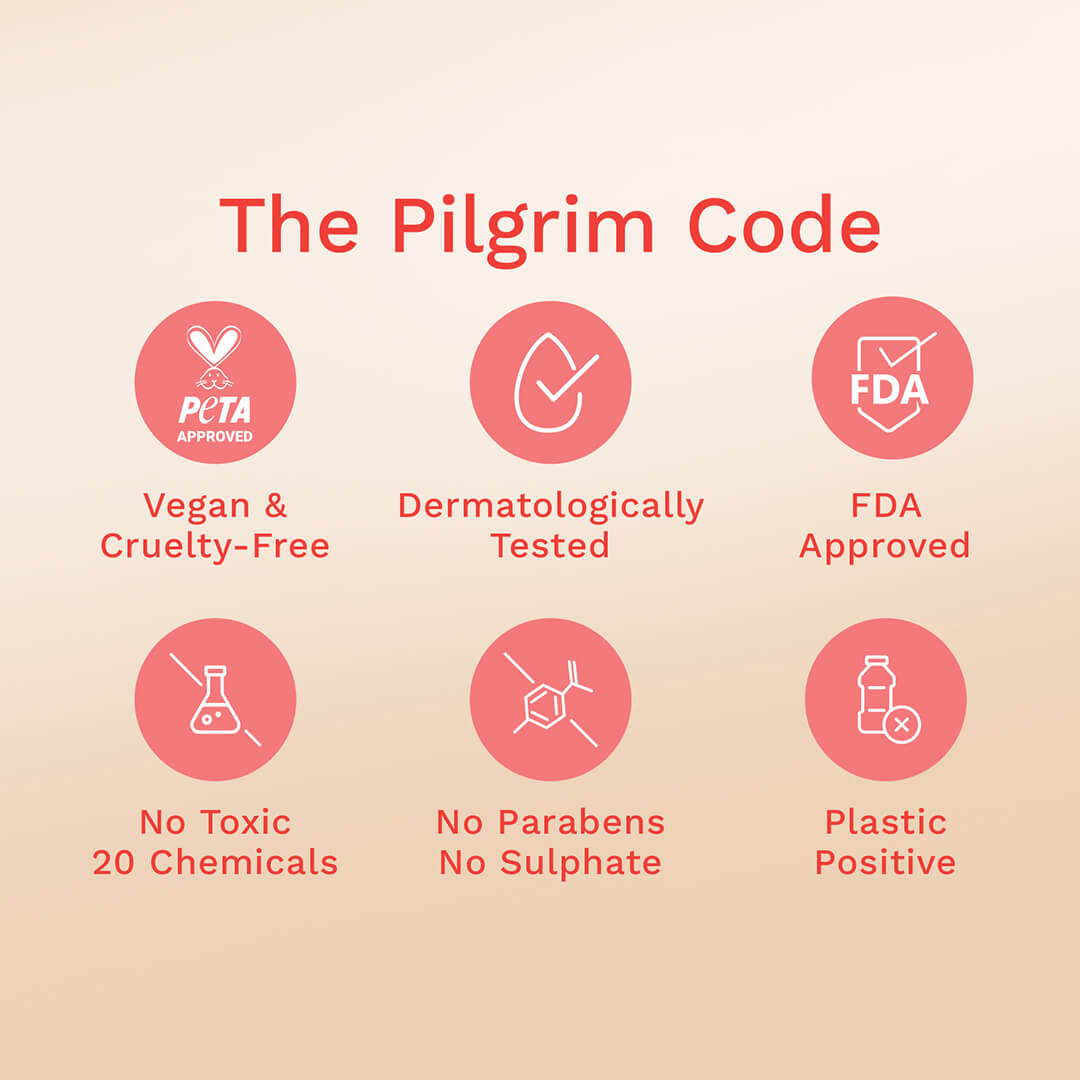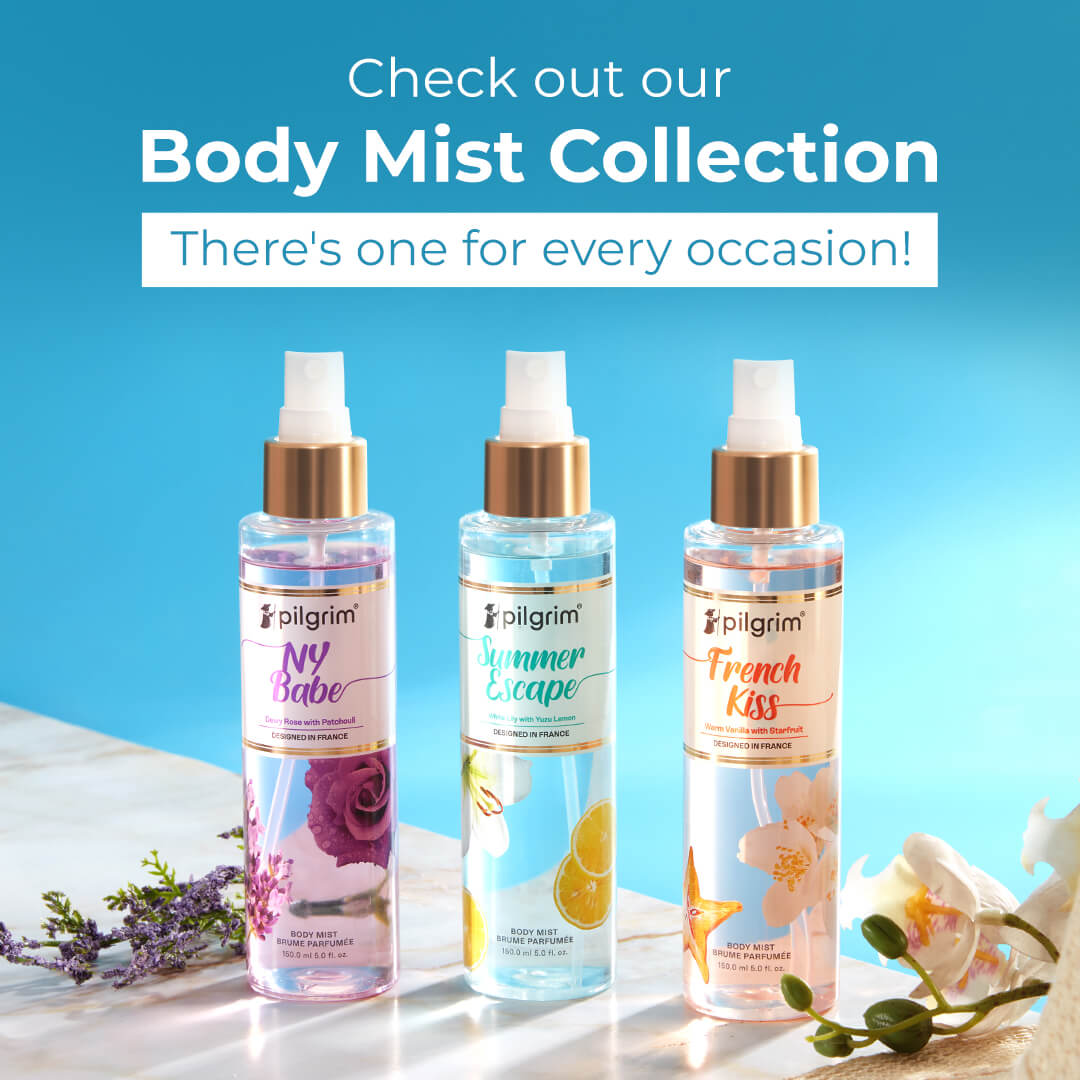 French Kiss Body Mist
Warm Vanilla w/ Starfruit | Long-lasting Body Spray For Women | 150ml
MRP inclusive of all taxes
Active Offers
Buy 1 Get 1 Free
BUY 1 GET 1 FREE on this product.
Discount will be auto applied
Free shipping On orders above ₹199
Product Description
Size: Net Vol.: 150.0 ml 5.0 fl. oz.

Fragrance Notes
✔ Top Notes: Starfruit, Mandarin
✔ Middle Notes: Freesia Jasmine, Vanilla
✔ Bottom Notes: Amber, Sandalwood, Soft Musk

Strength: Medium

Emotions: Romance, Sensual, Warm

Romance is in the air! Introducing French Kiss, a body mist expertly crafted by the best perfumers from...
1. Shake bottle well before use. 2. Hold bottle about 6 inches away from body and spritz all over. 3. Spritz on pulse points like neck and wrists for fab freshness!
Pilgrim is "Clean Compatible". Not just free of harmful and toxic chemicals but uses only those ingredients that either enhance the health of our hair & skin or support the effectiveness of formulations.
For best results, try our kit
FAQs
A body mist is a fragrance spray designed to lightly scent the skin without being overpowering. It usually contains less perfume oil than traditional perfumes, making it a lighter and more subtle option.
It's generally recommended to spray on your skin rather than your clothes. This is because fragrances are designed to interact with the natural oils and pH levels of your skin, which can affect how the fragrance smells and how long it lasts.
While body mists can be used as a lighter alternative to traditional perfumes, they are not necessarily meant to replace them. Perfumes often have a more complex and longer-lasting scent, while body mists are designed to provide a refreshing burst of fragrance.
nice 👏 9/10
Vanilla smell, for regular use