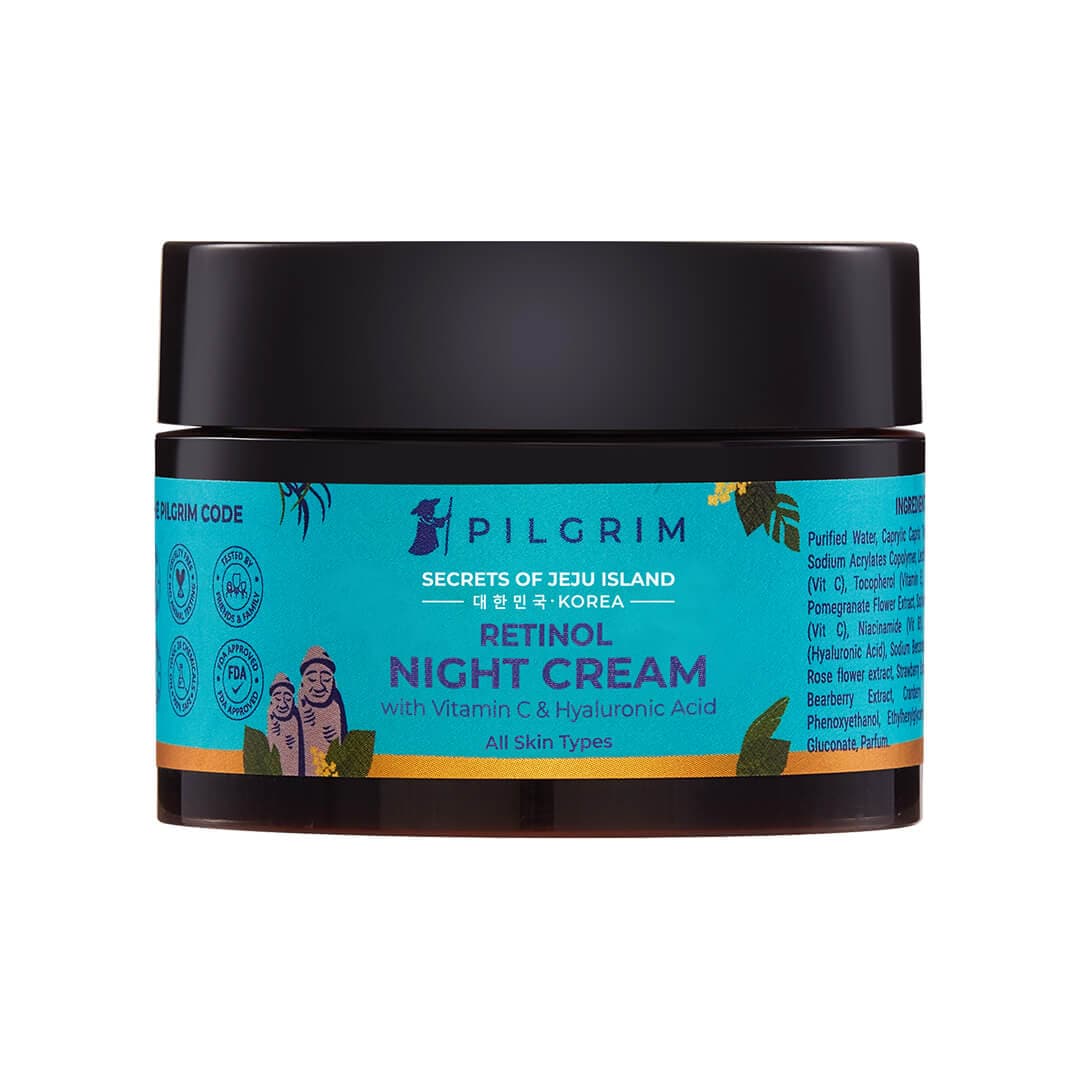 Retinol Night Cream with Vitamin C & Hyaluronic Acid
Perfect Your Morning Selfie With This Night Cream
MRP inclusive of all taxes
Active Offers
Buy 1 Get 1 Free
BUY 1 GET 1 FREE on this product.
Discount will be auto applied
Free shipping On orders above ₹199
Product Description
Size: 50.0 gm

Suitable for: All Skin Types

Retinol Night Cream is crafted to synergistically enhance your skin's natural repair process as you sleep. This luxurious Korean beauty night cream helps reverse fine lines & wrinkles, leaving skin deightfully youthful and smooth. Retinol accelerates the skin renewal process and enhances collagen production....
confirmed reduced fine lines
*Based on 6 weeks of consumer usage
Massage a pea-sized amount using gentle upward and outward strokes until cream is absorbed fully
Pilgrim is "Clean Compatible". Not just free of harmful and toxic chemicals but uses only those ingredients that either enhance the health of our hair & skin or support the effectiveness of formulations.
For best results, try our kit
FAQs
Yes! This product is unisex and can be used by both men and women.
If you are a retinol beginner or have a sensitive skin type, you may experience a slight tingling sensation when you apply products containing Retinol. If you experience tingling, we recommend reducing the quantity (take 1/4th of a pea) and spreading light in the under-eye area. Retinol tolerance can also be built by starting with a twice-a-week application for 2 weeks and then gradually increasing the frequency of application.
Retinol works on the deeper layers of the skin. It stimulates collagen synthesis resulting in firm and taut skin. Fine lines are eliminated, appearance of deep wrinkles on the forehead and smile lines is improved. Refines overall skin texture to reveal a smoother, tighter and even complexion. Boosted with Hyaluronic Acid that saturates the skin with moisture and the goodness of Vitamin C, it brightens and plumps up skin. We call it the magical elixir of youth!
awesome ❤️
i tried lot of cream but this cream give me just wow ❤️
Retinol Night Cream with Vitamin C & Hyaluronic Acid
Works Amazing
I bought this for my mom, and it really works... her skin has become not smoother and firmer, but also more glowing
Retinol Night Cream with Vitamin C & Hyaluronic Acid