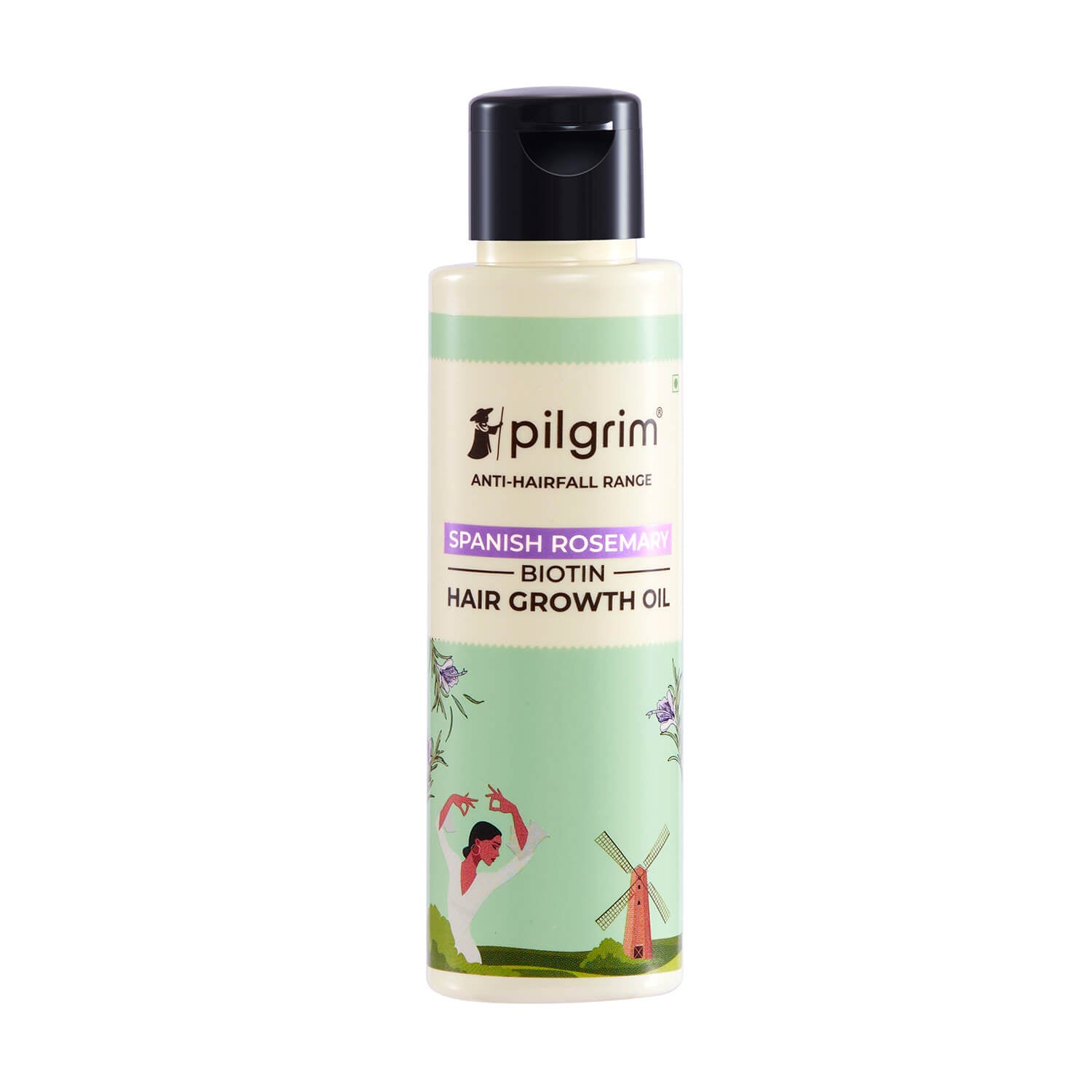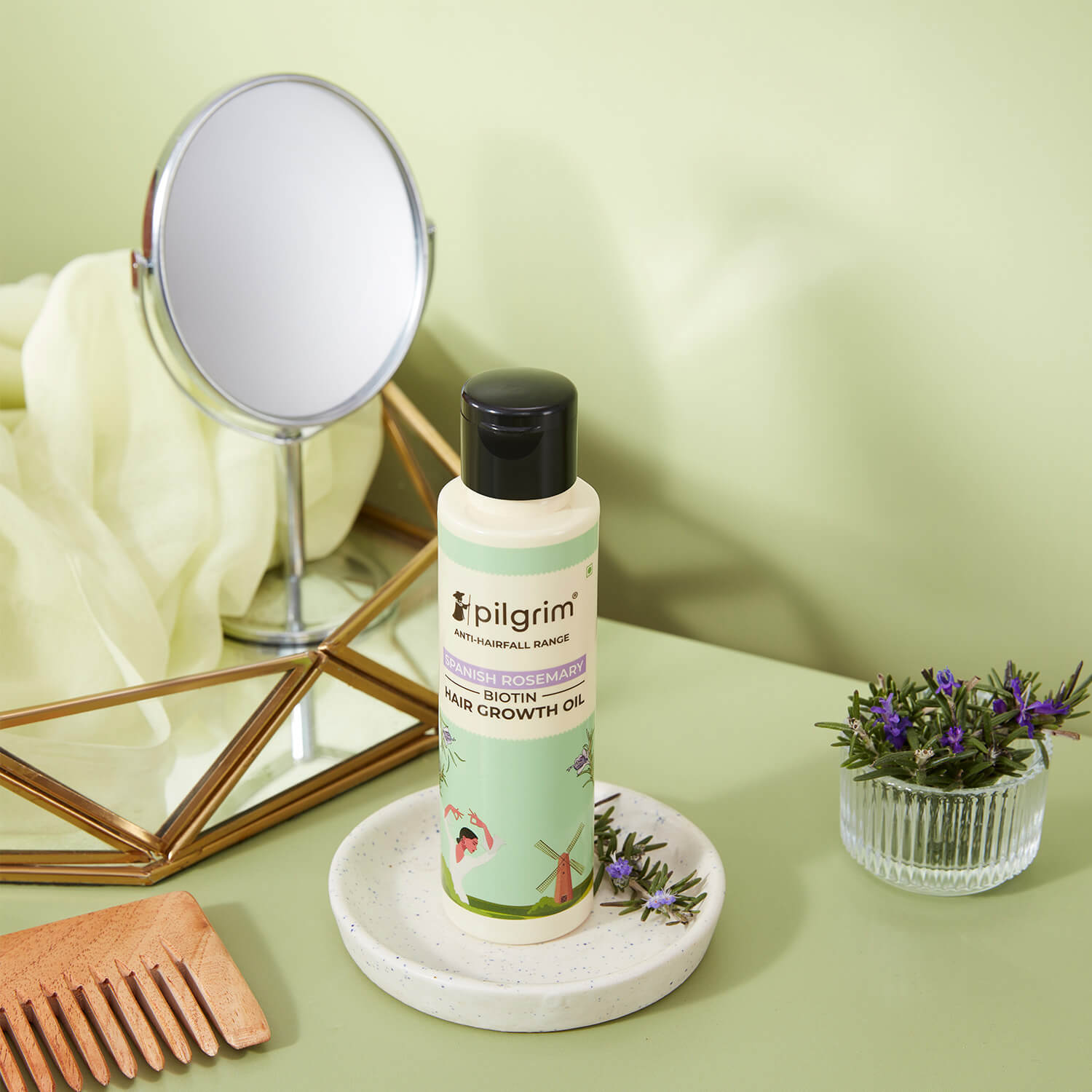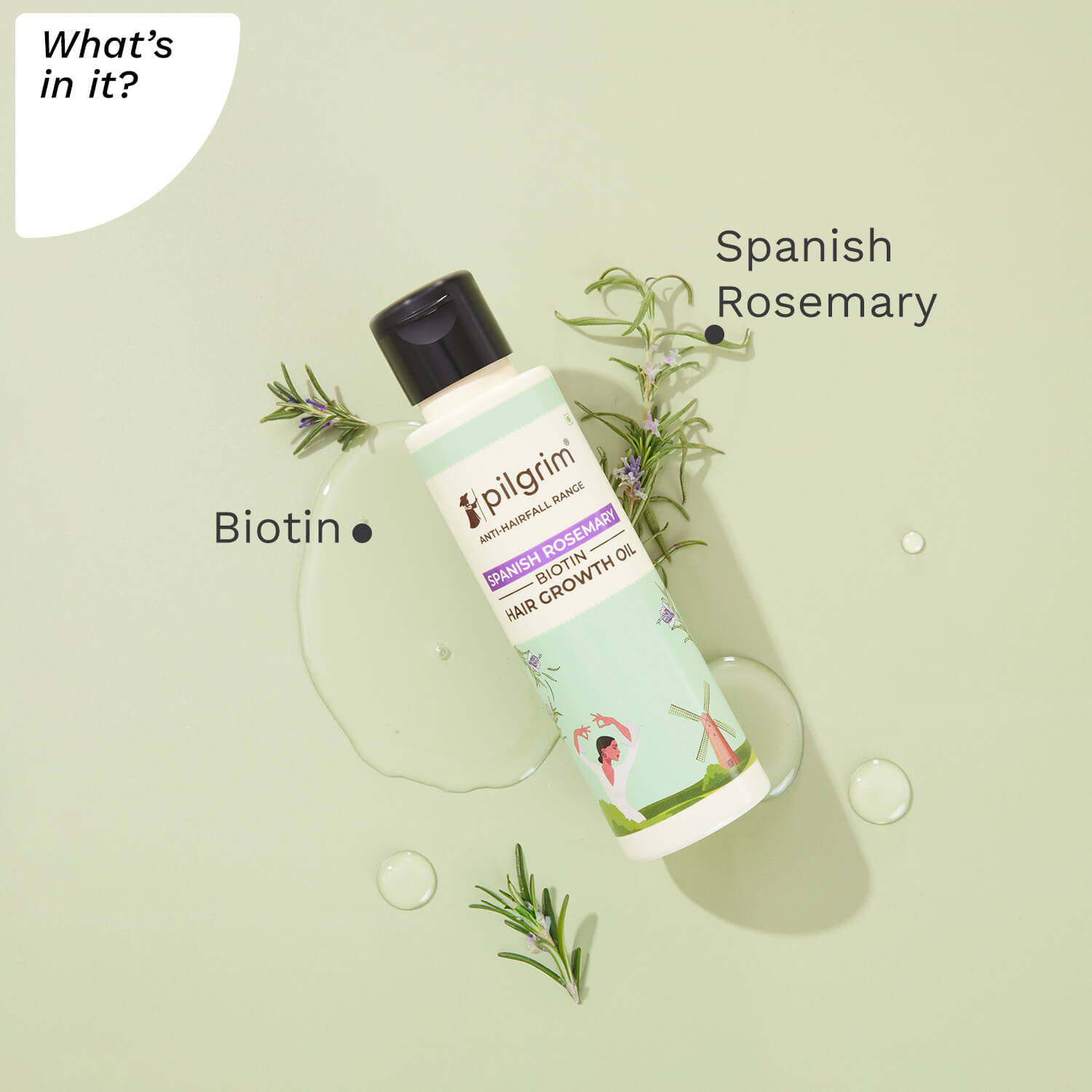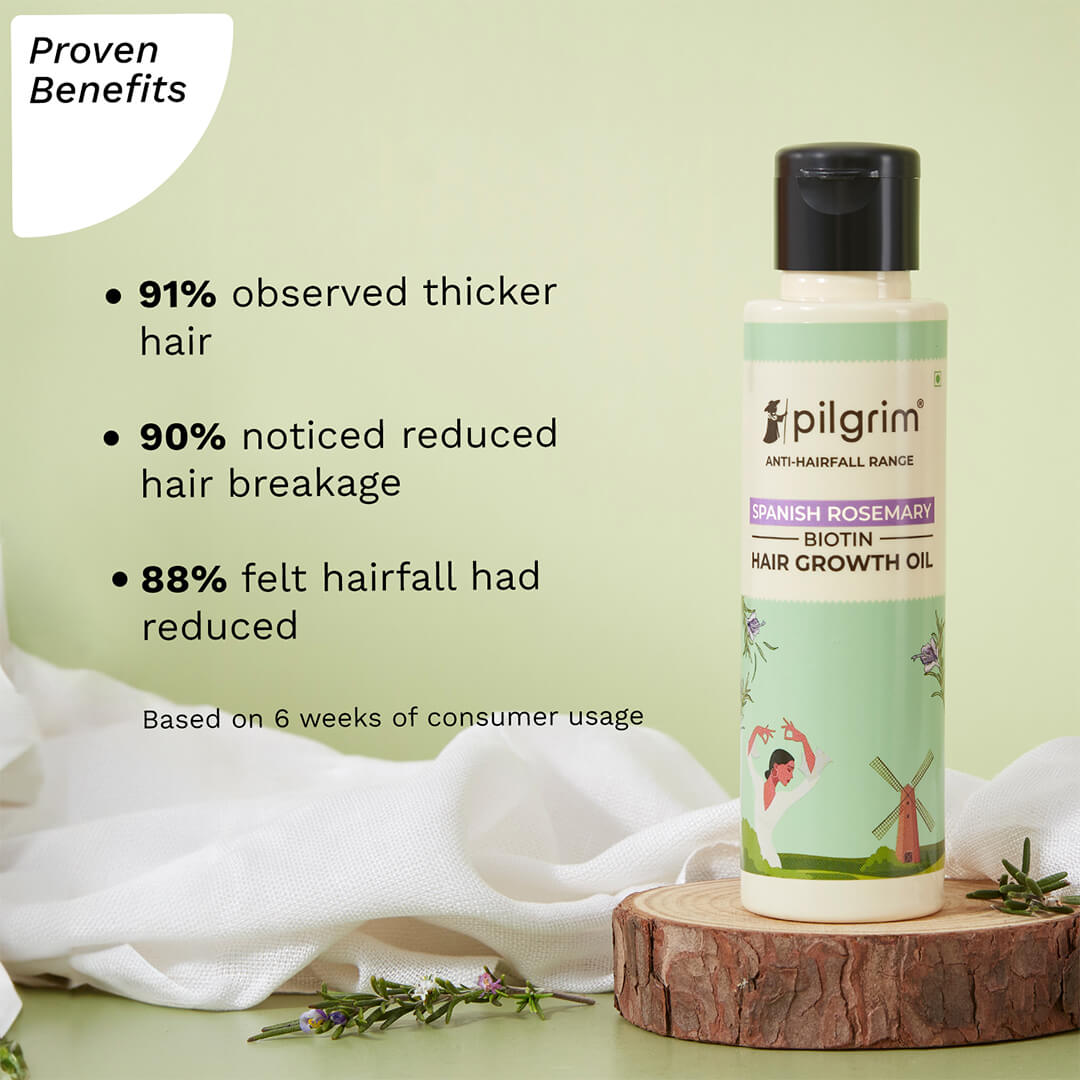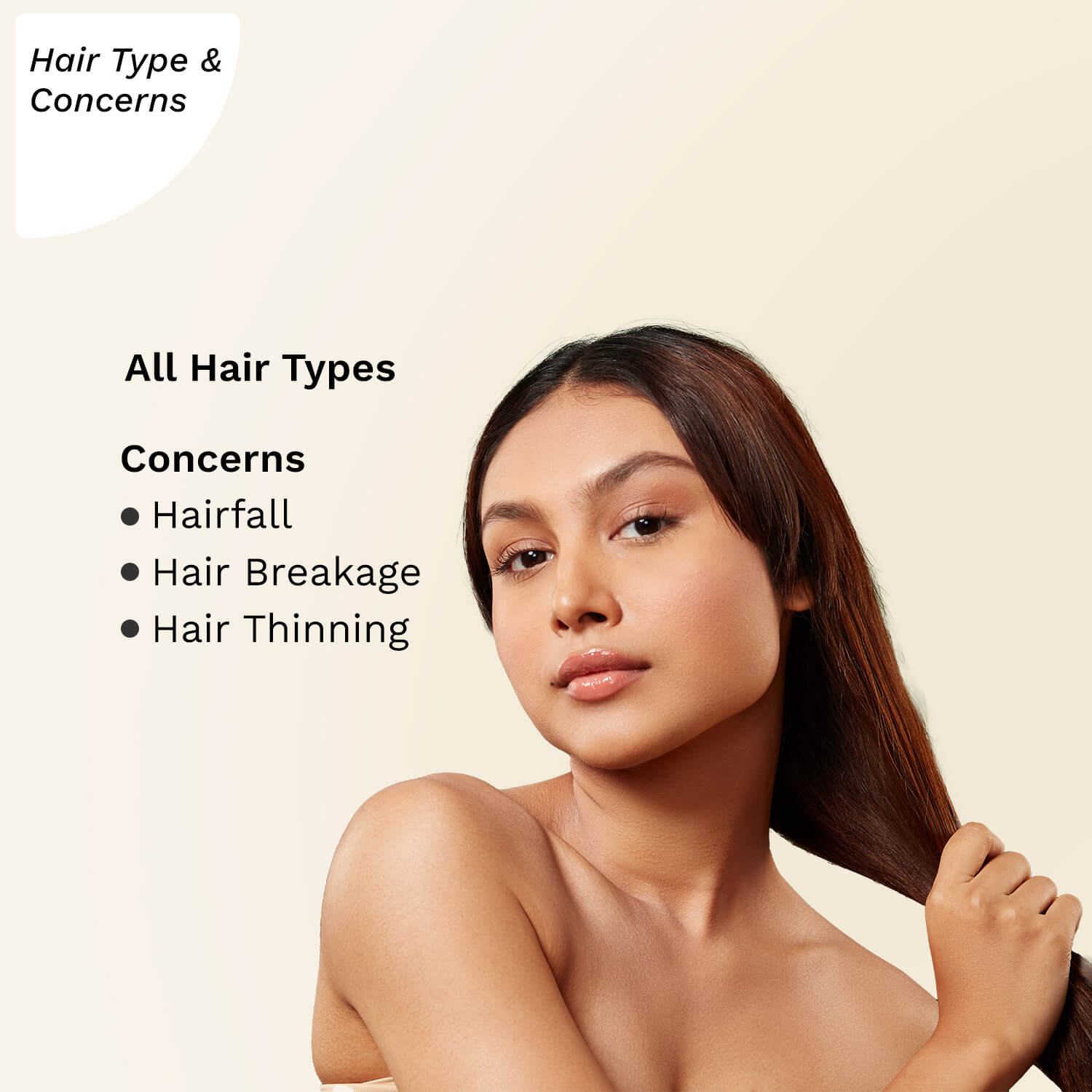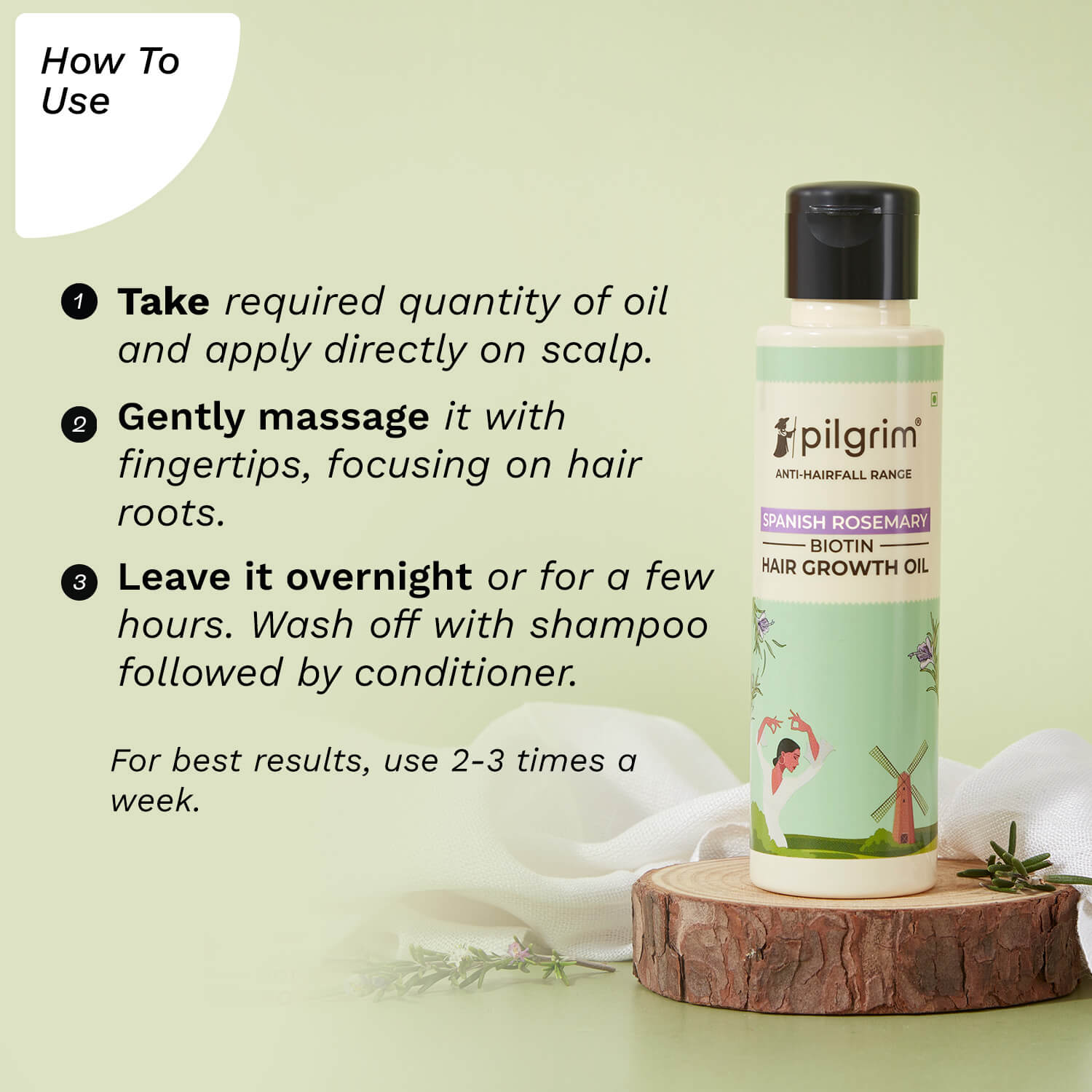 Spanish Rosemary & Biotin Hair Growth Oil
Get Faster Hair Growth
MRP inclusive of all taxes
Why you'll love it?
Improves Hair Growth & Thickness
Active Offers
Buy 1 Get 1 Free
BUY 1 GET 1 FREE on this product.
Discount will be auto applied
Free shipping On orders above ₹199
Product Description
Size: 100.0 ml
Suitable for: All Hair Types
Experience remarkable hair growth with Spanish Rosemary & Biotin Hair Growth Oil, a transformative solution that dramatically improves hair health. The growth oil helps strengthen hair roots as it stimulates scalp blood circulation, promoting quicker growth. The star in this growth oil...
noticed reduced hair breakage
felt hairfall had reduced
*Based on 6 weeks of consumer usage
• Before first use, remove inner plug.
• Take required quantity of oil and apply directly on scalp.
• Gently massage it with fingertips, focusing on hair roots.
• Leave it overnight or for a few hours.
• Wash off with Pilgrim Spanish Rosemary & Biotin Anti-Hairfall Shampoo followed by Conditioner.
Pilgrim is "Clean Compatible". Not just free of harmful and toxic chemicals but uses only those ingredients that either enhance the health of our hair & skin or support the effectiveness of formulations.
For best results, try our kit
FAQs
For best results, oil hair 2-3 times a week overnight or before washing. However, do consider your hair and scalp type before deciding your oiling schedule.
Yes, you can use them together! But do remember to use the serum first, and wait for 15-20 mins for it to fully absorb before applying the hair oil.
Apply an appropriate quantity of oil to parted, dry hair, and massage into roots in a circular motion to warm the area for improved absorption and circulation. For optimal results, leave it on for a few hours or overnight and use it as a regime with Rosemary anti-hair fall shampoo and conditioner.
Rosemary & biotin hair oil
After using this oil for few days I can say that it has worked well on my hair roots.Adds great shine.Use only shampoo and see how beautifully it does the job.Using conditioner is personal choice.To know about the effect of Rosemary oil or Shampoo use only two products.It has shown good results on me.It does the job as it claims.Your hair will look natural with a mild shine.Thank you so much.
Amazing result
I am having rainfall like anything. But trust me till now I used twice I think. N I am seeing the result. My hairfall is reducing day by day. I am using shampoo, conditioner, oil+ essential oil+ hair growth serum(daily). It's really work.happy to see the result. N I hope it will reduce my hair fall soon.
Spanish Rosemary & Biotin Hair Growth Oil
Spanish Rosemary & Biotin Hair Growth Oil
pilgrim spanish rosemary & biotin hair growth oil
thank you so much piligrim 🙋
best product