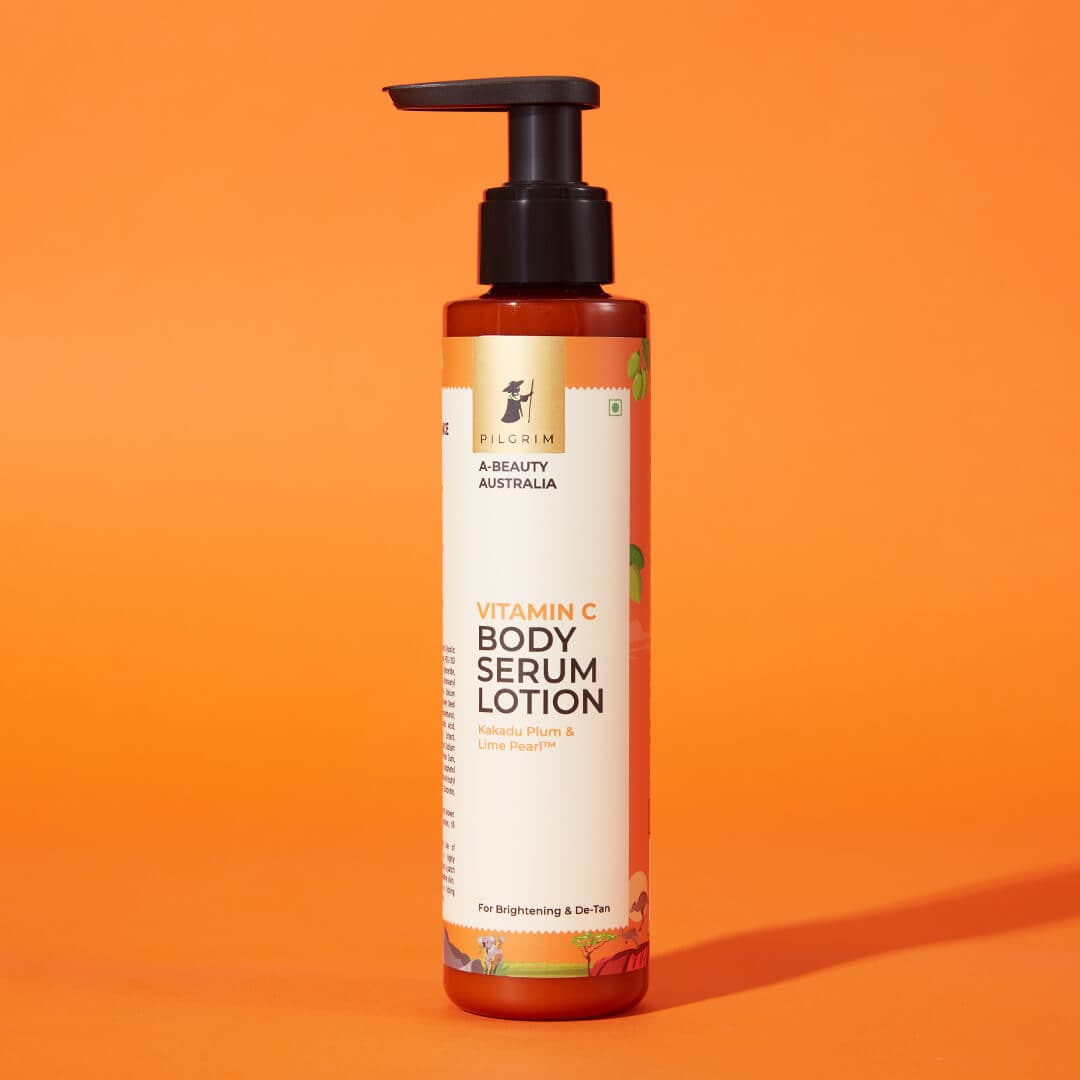 VITAMIN C BODY SERUM LOTION Kakadu Plum & Lime Pearl™
With Australian Kakadu Plum & 99.9% Pure Vitamin C Form
MRP inclusive of all taxes
Why you'll love it?
Gently Exfoliates & Hydrates
Free shipping On orders above ₹199
Product Description
Size: Net Vol.: 150.0 ml 5.0 fl. oz.

Suitable for: All Skin Types

Vitamin C Body Serum Lotion is the perfect daily brightener that you need to raise the overall radiance from neck to toes! Crafted with two Vitamin C sources including pure 3-O-Ethyl Ascorbic Acid (the most stable form of Vit...
*Based on 6 weeks of consumer usage
Apply on damp skin post shower. Gently massage in long-flowing strokes, till absorbed completely
Pilgrim is "Clean Compatible". Not just free of harmful and toxic chemicals but uses only those ingredients that either enhance the health of our hair & skin or support the effectiveness of formulations.
For best results, try our kit
FAQs
We ensure that our products are as gentle as possible on the skin. However, in the case of sensitive skin, what triggers a reaction can vary from person to person. If you have sensitive skin, we recommend that before trying any new product you do a 24-hour patch test prior to use. Apply a small amount on a non-visible area and observe for the next 24 hrs. If no rashes or redness appear, you can safely use the product.
We do not recommend products containing active ingredients for anyone below 18 years of age.
No, Vitamin C does not cause skin sensitivity. However, as a general rule for great skin health, we recommend wearing broad-spectrum sunscreen SPF30+ on the exposed parts of the body.
VITAMIN C BODY SERUM LOTION (DE-TAN)
VITAMIN C BODY SERUM LOTION (DE-TAN)
Great body serum lotion, loved it
I am really pleased with my purchase from Pilgrim! Their products are always unique & are concern specific. I am so glad that they launched a body serum lotion with Vitamin C, Kakadu Plum & Lime Pearl. I use the product after taking the shower. It is really lightweight & absorbs really well into my skin. You need to get your hands on this body serum lotion for bright, glowing & clear skin! I loved it.
Highly recommended
I would highly recommend this body serum lotion to anyone who's looking for body serum lotion with vitamin c. The ingredients have a plus point in this whole formulation. The packaging is also really nice, and the products were not hampered. The results are visible after 1-2 weeks after usage but can depend from person to person. This body serum lotion for dark spots or hyperpigmentation is a must-have in your skincare routine!
I love this body serum lotion for glowing skin
I wished I would've known about this body serum lotion for glowing skin before. I ordered the product about 2 weeks back & have been using it consistently. The results are amazing, this body serum lotion is perfect to get the glow you need. It is so refreshing too! I am in love with every single thing about this body serum lotion. I apply this product post-shower on damp skin. It has worked well to remove any dark spots on my skin. The product also gently exfoliates dead skin cells & enhances skin tone & texture! Loved it.