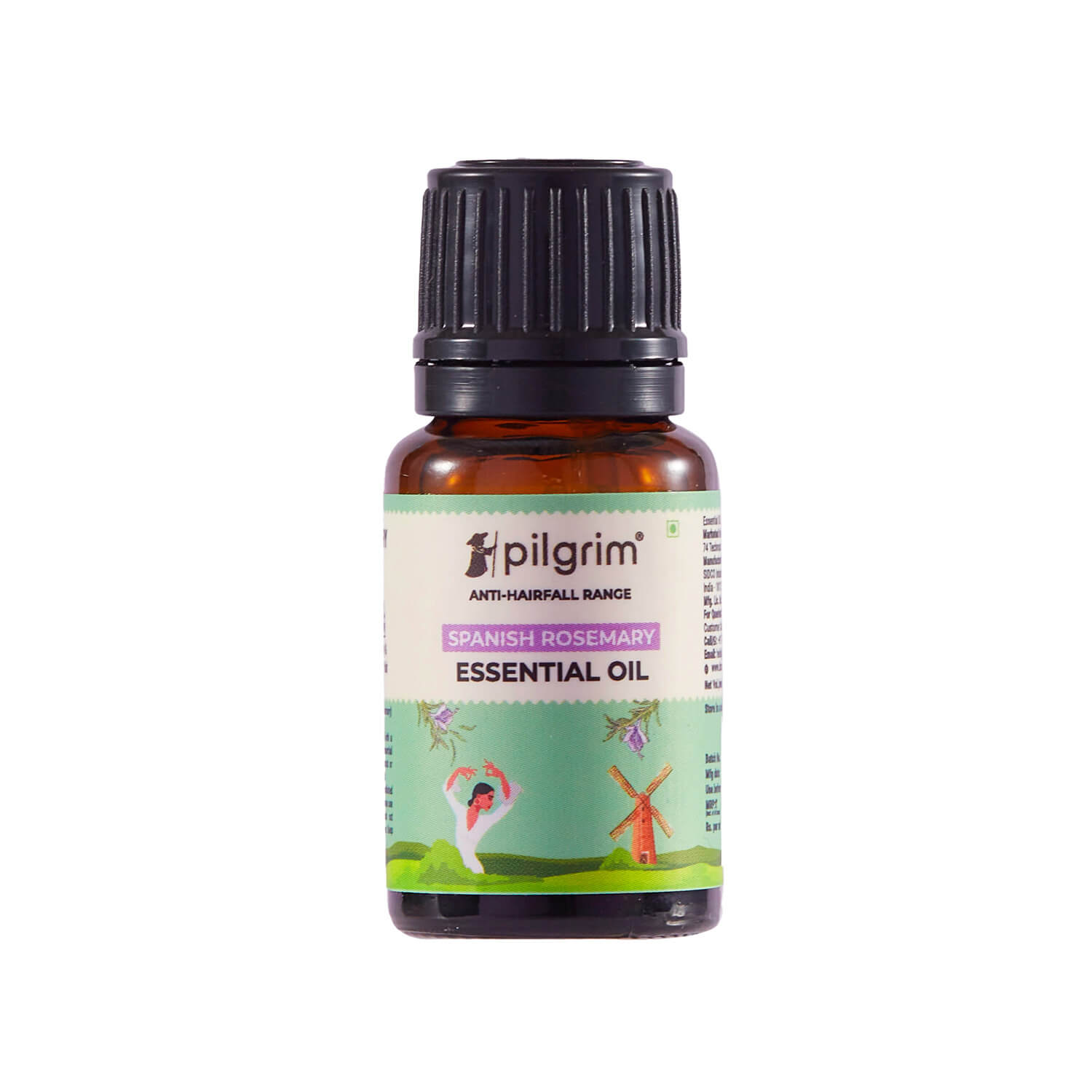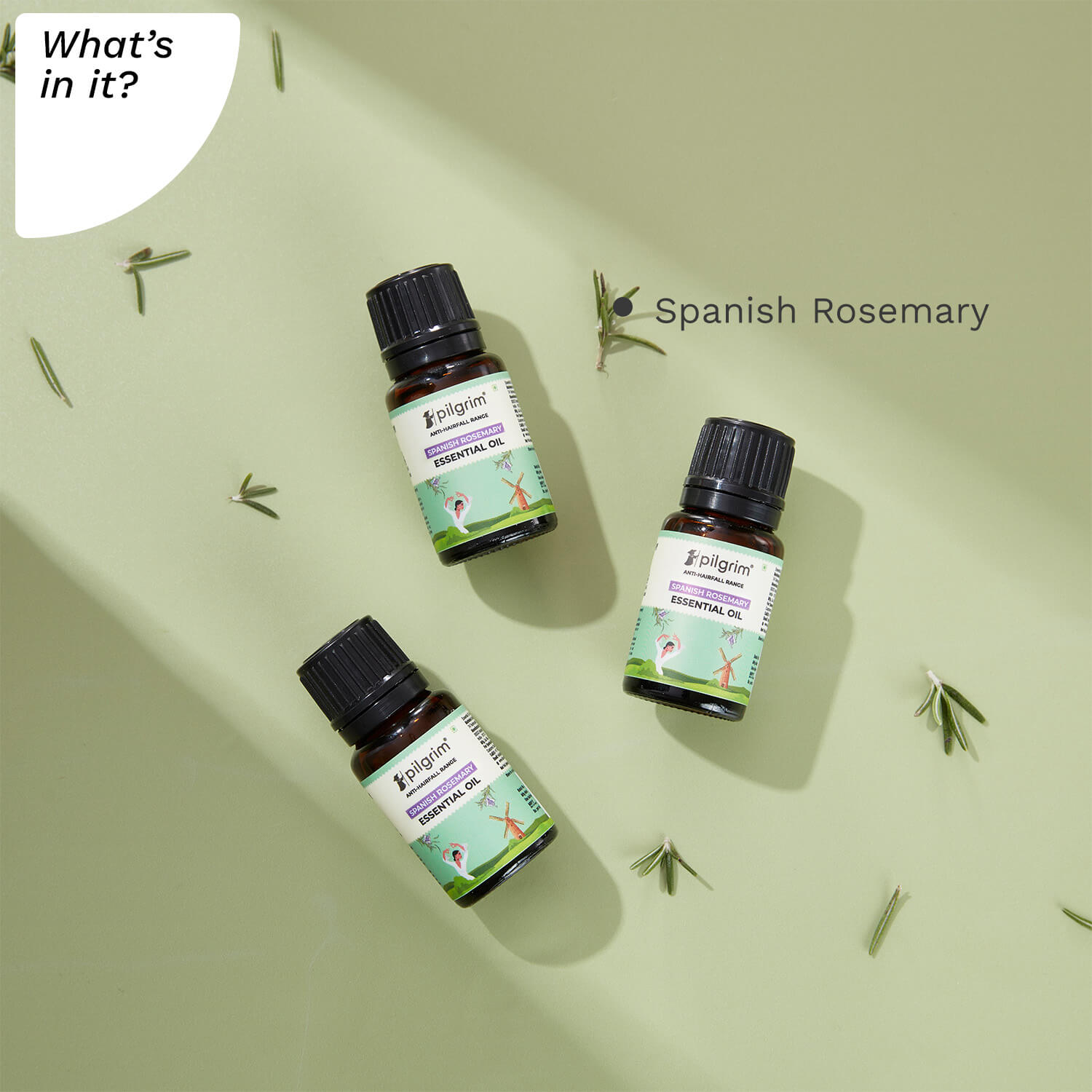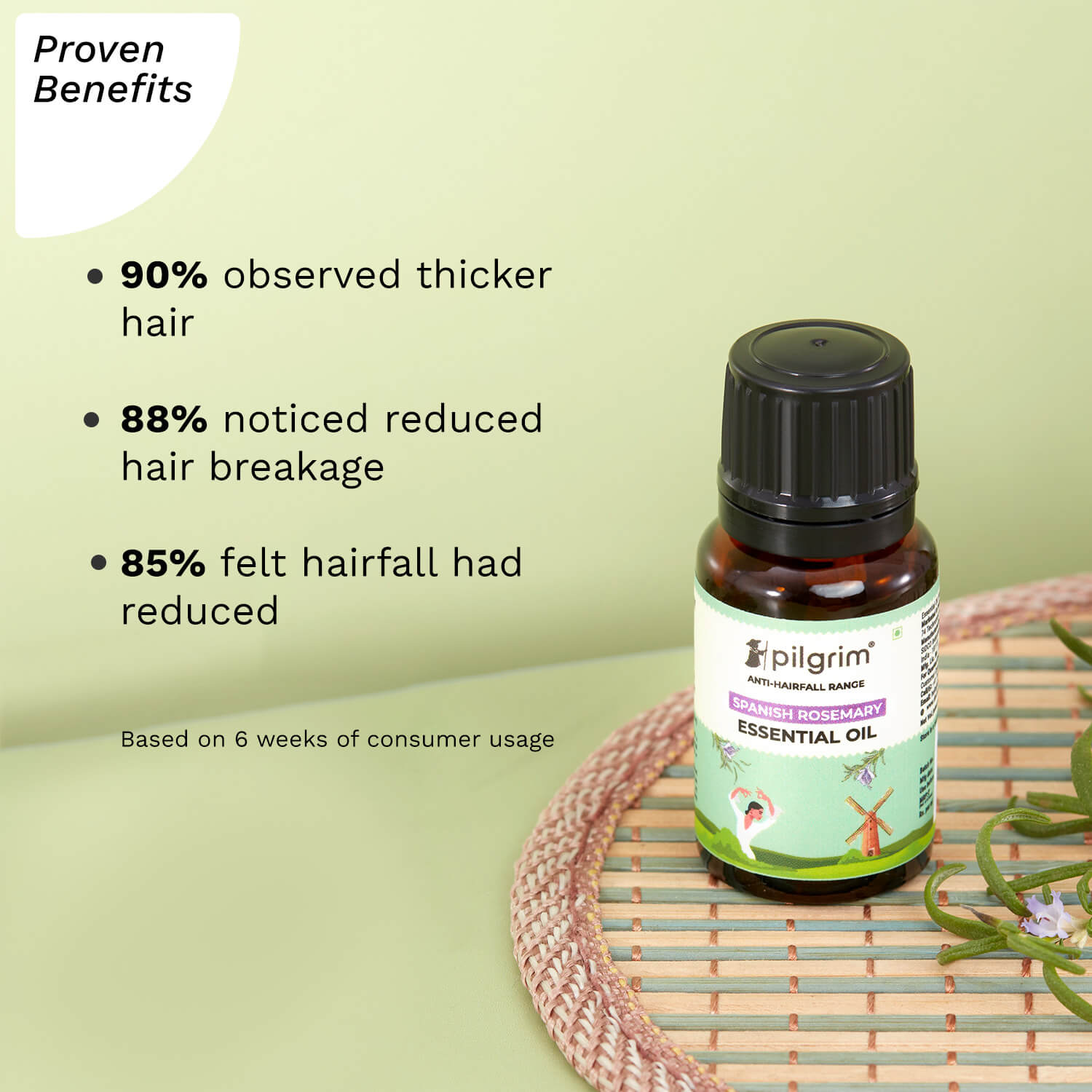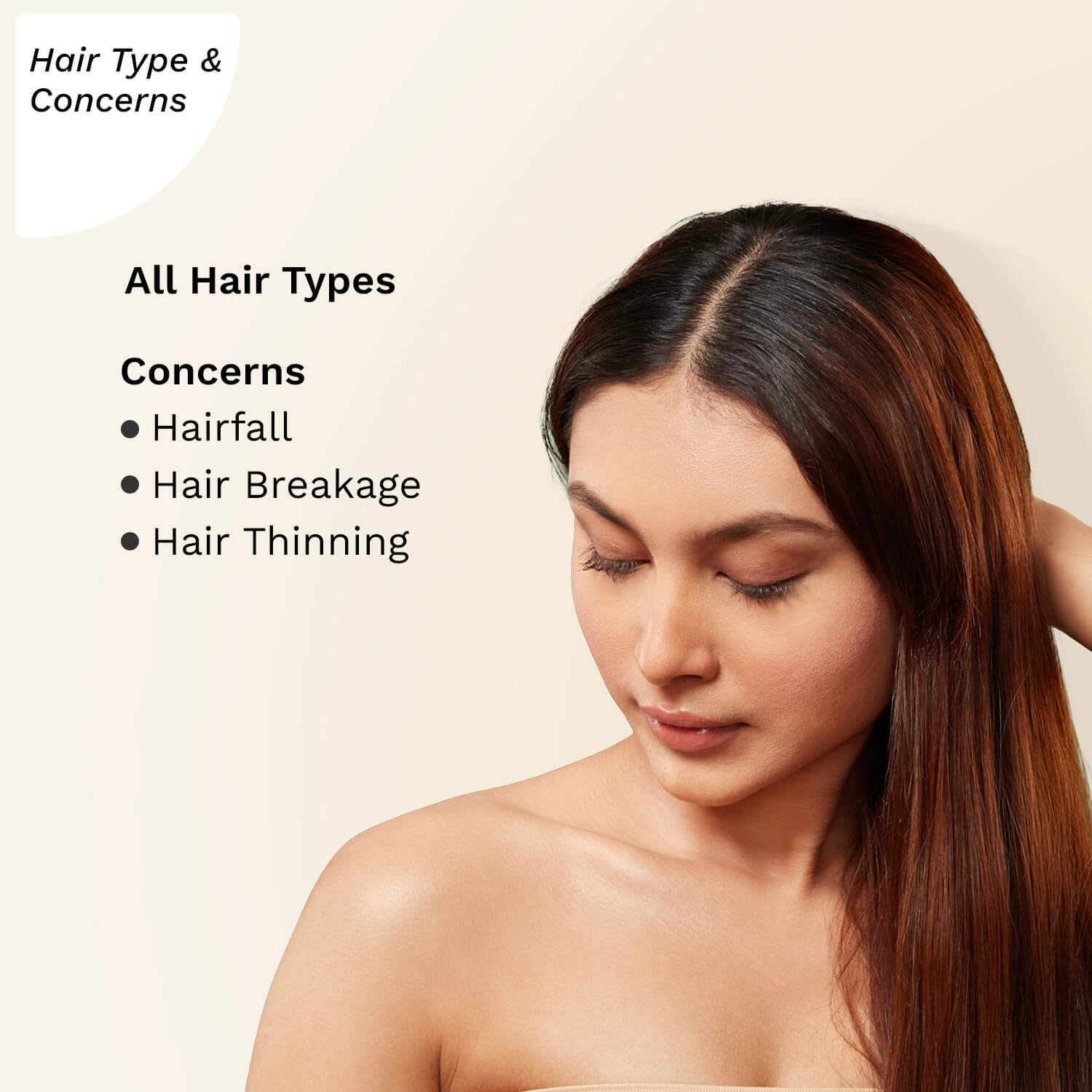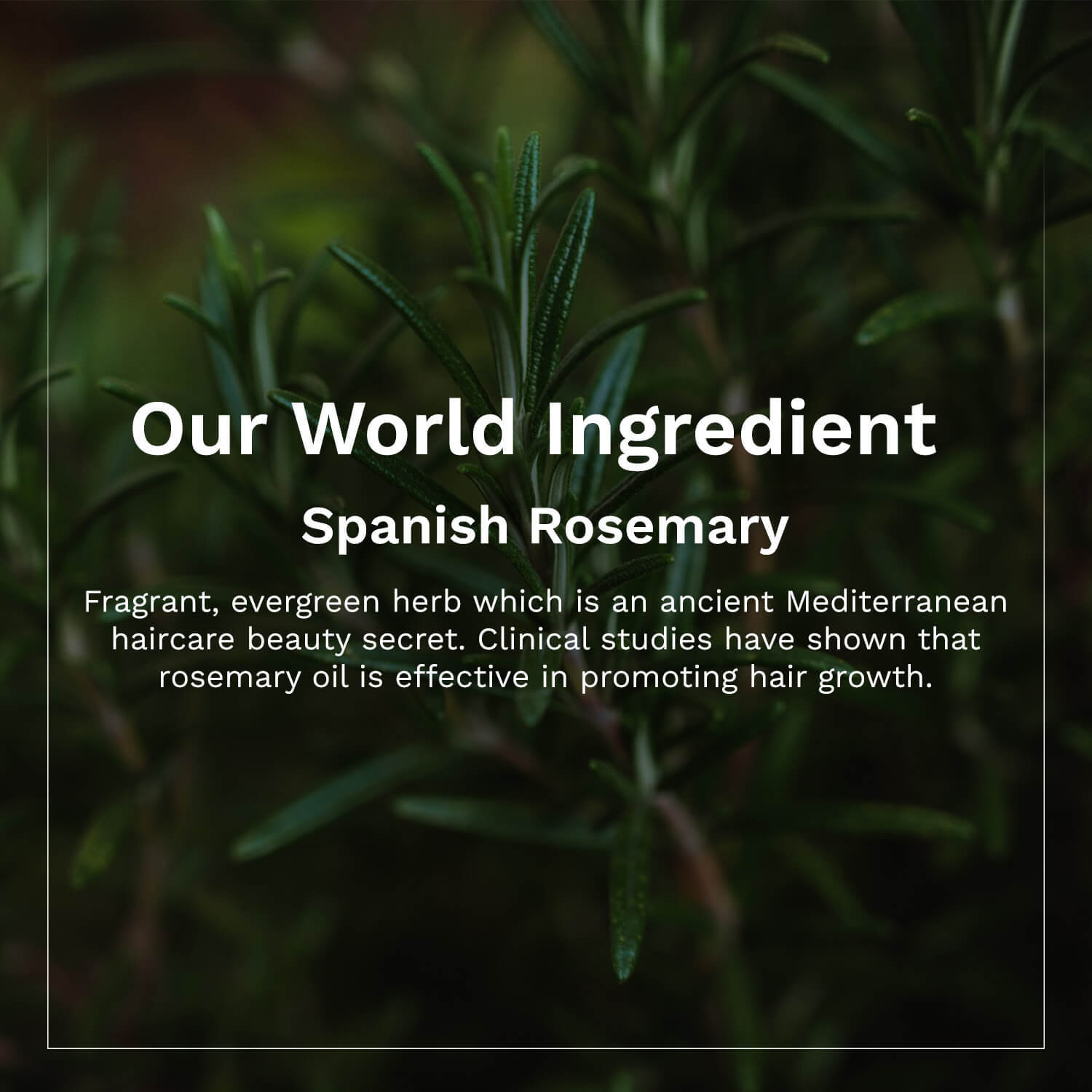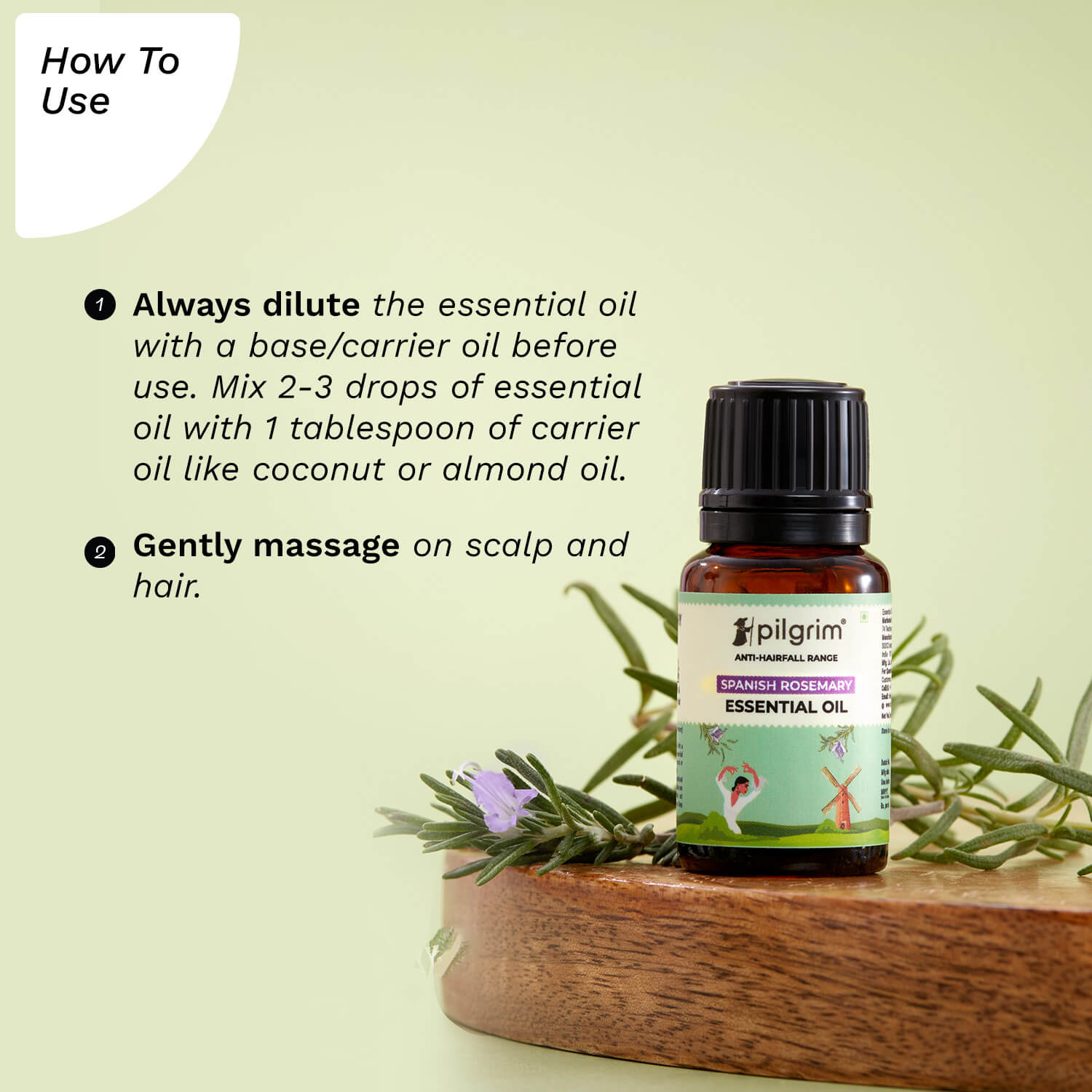 Spanish Rosemary Essential Oil
Promotes Healthy Hair Growth
MRP inclusive of all taxes
Active Offers
Buy 1 Get 1 Free
BUY 1 GET 1 FREE on this product.
Discount will be auto applied
Free shipping On orders above ₹199
Product Description
Net Vol: 10.0 ml
Suitable for: All Hair Types
Introducing the rejuvenating power of Spanish Rosemary Essential Oil, an ancient haircare beauty secret. Experience a reduction in hairfall as the rosmarinic acid in Spanish Rosemary helps promote hair growth by stimulating hair follicles, countering hairfall effectively. Enhance your hair roots'...
noticed reduced hair breakage
felt hairfall had reduced
*Based on 6 weeks of consumer usage
• Always dilute the essential oil with a base/carrier oil before use.
• Mix 2-3 drops of essential oil with 1 tablespoon of carrier oil like coconut or almond oil.
• Gently massage on scalp and hair.
Pilgrim is "Clean Compatible". Not just free of harmful and toxic chemicals but uses only those ingredients that either enhance the health of our hair & skin or support the effectiveness of formulations.
For best results, try our kit
FAQs
Mix 2-3 drops of oil in one tablespoon of any carrier oil like almond oil, olive oil, jojoba oil, or coconut oil. Apply a small patch of this mix to the inner forearm and observe for 24 hours. If there is no redness, swelling, or rash, then it is safe to apply this mix topically.
Yes, Rosemary oil rejuvenates the scalp and stimulates hair follicles for faster, stronger, and thicker hair growth. Do remember to dilute this essential oil with carrier oil as per the 'How to Use' instructions.
Yes, the oil should never be used alone and always diluted in carrier oil. Once diluted and a patch test performed, the oil can be used topically on both, skin and hair.
textured and subtle product
Viral Rosemary
Rosemary has been going viral since months now. So i had to try it. The packaging is super cute and it being a pilgrim product has to be chemical free. I have been using it with almond oil for a month now and can definitely say i have reduced hairfall and its had also manahed my headache.
Amazing Product. Love it.
I've tried many hair products, but Rosemary oil is my favorite. It's natural and effective. Ancestors have been using it since ages for the same reason. It works!
Too Goood!
I recently tried Rosemary Essential Oil, and it's been a pleasant surprise. It has a refreshing scent, and I've found it useful for reducing stress when oiling my hair plus, it's so versatile; I've used it for massage, in my diffuser, and even in my homemade cleaning solutions
Its very real.
Im im impressed with Pilgrim has they literally have selling us the pure form of rosemary oil. Go to their website and check it for yourself. Im Sold!