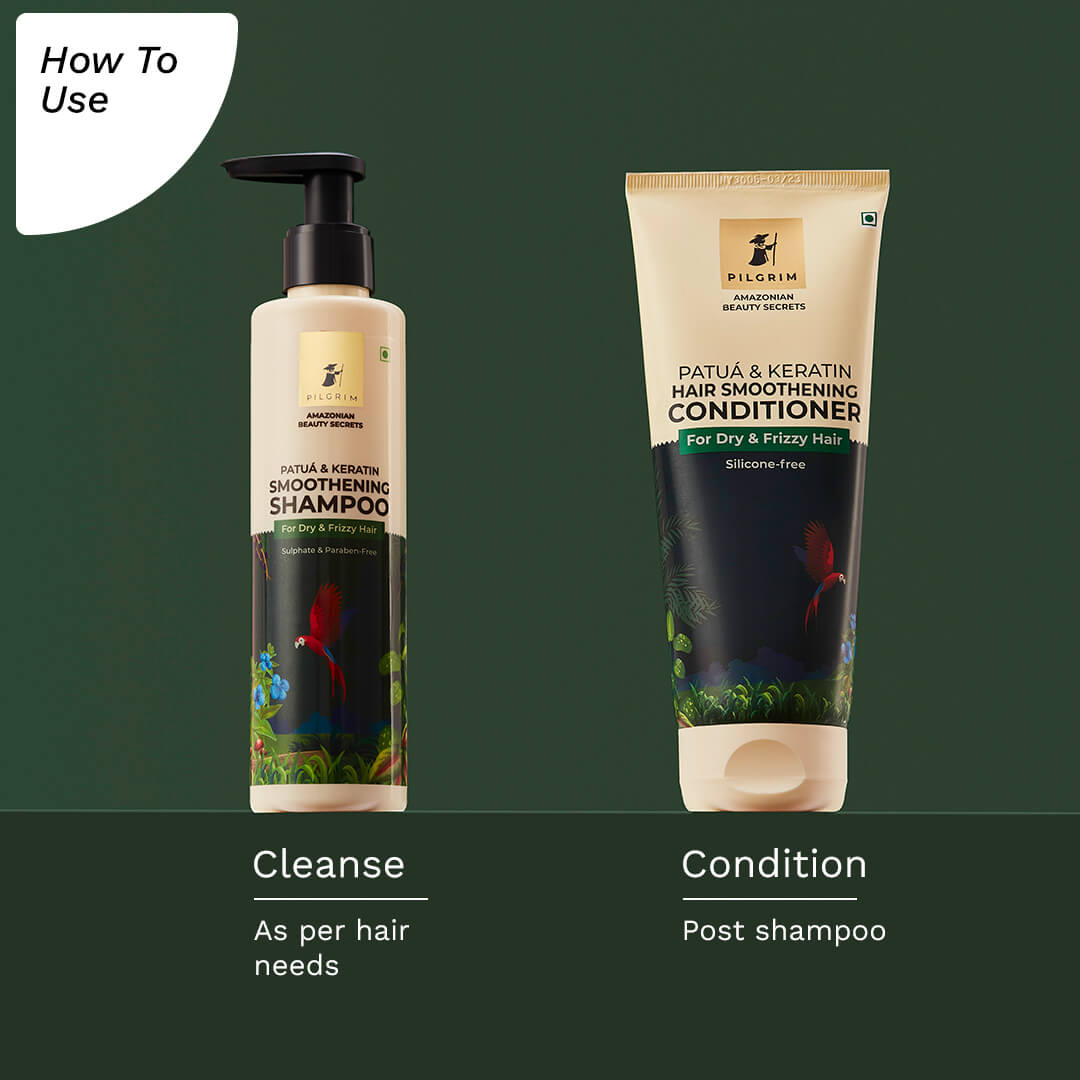 Amazon Rainforest Shampoo + Conditioner Combo
Discover Non-Frizzy Healthy Hair
MRP inclusive of all taxes
Active Offers
Buy 1 Get 1 Free
BUY 1 GET 1 FREE on this product.
Discount will be auto applied
Free shipping On orders above ₹199
Product Description
This kit contains🎁
Patuá & Keratin Smoothening Shampoo
Net Vol.: 200.0 ml 6.8 fl. oz.
Patuá & Keratin Smoothing Conditioner
Net Vol.: 200.0 ml 6.8 fl. oz.
Suitable for: All Hair Types
Experience Amazonian Beauty Secrets with our Patuá & Keratin Smoothening Shampoo and Smoothing Conditioner. Infused with the power...
of users noticed hair felt smoother
*Based on 6 weeks of consumer usage
• Cleanse
- Apply to wet hair. Massage well & rinse.
---
As per hair needs
• Condition
- Smoothen through length of the hair, from root to tip. Wait for a few minutes and rinse thoroughly.
----
Post shampoo
Pilgrim is "Clean Compatible". Not just free of harmful and toxic chemicals but uses only those ingredients that either enhance the health of our hair & skin or support the effectiveness of formulations.
For best results, try our kit
FAQs
Experience hair transformation with our Patuá & Keratin Smoothening Shampoo and Smoothing Conditioner. Designed to target dryness, frizziness, and dullness, these dynamic haircare products are enriched with the natural power of Patuá and the smoothing benefits of Keratin. Our shampoo cleanses and nourishes while our conditioner locks in moisture and leaves your hair sleek and frizz-free. Embrace the beauty of healthy, vibrant hair with this potent duo, and say goodbye to dryness and hello to smooth, lustrous locks.
Yes, the shampoo can be used on keratin-treated hair. It would be advisable to limit the frequency of use to twice to thrice a week. Alternatively, you can also check with your stylist!
Yes! The shampoo helps control the frizziness. We recommend using Patuá & Keratin Hair Smoothing Conditioner after shampooing and the use of Patuá, Keratin and Sacha Inchi Strengthening Hair Mask once a week for best results.
Makes hair smooth and manageable right after the first wash.